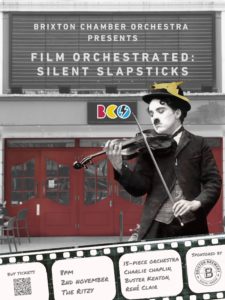 The Brixton Chamber Orchestra's Film Orchestrated series is back, this time bringing you a captivating programme of comedy silent movies, each accompanied live by a 15-piece orchestra.
This event marks the eagerly awaited second installment of BCO's residency at Brixton's iconic Ritzy cinema, following the fantastic response to our Halloween screening of Dreyer's Vampyr and Disney's Skeleton Dance in 2022.
Get ready for hilarious classic sketches from the likes of Charlie Chaplin and Buster Keaton, enhanced by a unique blend of historical soundtracks, live improvisation, and fresh compositions. Also screening will be René Clair's masterpiece of early surrealist cinema, Entr'acte, featuring the original soundtrack by Erik Satie.
More information here.