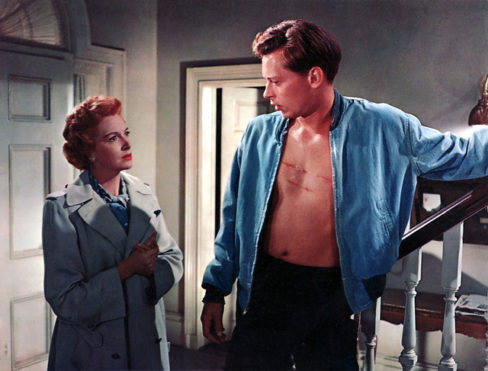 The Cinema Museum welcomes the return of The Vito Project LGBTQ+ Film Club, a series of regular screenings providing different generations of LGBTQ+ people and allies an alternative safe space to socialise, watch great films and share ideas.
The Vito Project is proud to present its new 2022 Spring season: Re-Opening the Celluloid Closet, a series of screenings exploring the challenging and yet endlessly fascinating ways that classic Hollywood films depicted queer representation under the restraints of the infamous Hays Code. This was a set of self-regulating guidelines dictating what was deemed unacceptable in American movies from 1934-1968 – and homosexuality was on the "highly objectionable" list! Despite this, filmmakers took on the creative challenge to show what couldn't be shown through veiled subtexts and exploitation.
Tea and Sympathy (1956) was brought this to the screen in lush colour and CinemaScope by Vincente Minnelli, one of Classic Hollywood's most flamboyant directors, winning Oscars for An American In Paris (1951) and Gigi (1958). Let's not forget he had also been married to Judy Garland and yes, is Liza's father. Adapted for the screen from his own play by Robert Anderson, this is regarded as one of the era's most sensitive, hard-hitting portrayals of the corrosive effect of homophobia and toxic masculinity.
Seventeen-year-old Tom Robinson Lee (John Kerr, who won a Golden Globe for his portrayal), a new senior at an all boys' prep school, finds himself at odds with the machismo culture of his classmates who love sports, roughhouse, fantasise about girls, and worship their coach, Bill Reynolds (Leif Erickson). Tom prefers classical music, goes to the theatre, and generally seems to be more at ease in the company of women.
Tormented for his 'unmanly' qualities and called 'sister boy' Tom is treated unfeelingly by his father who believes a man should be manly. However, the headmaster's wife (Deborah Kerr, screen legend of From Here To Eternity (1953), The King And I (1956)) sympathises with him, but her efforts to help only lead to confronting her own insecurities about her marriage.
The film will be followed by a conversation about the context of its production and the content of the movie.
Doors open at 17.00, for a 18.00 start.
Refreshments will be available in our licensed cafe/bar.
TICKETS & PRICING
Tickets £8 in advance or on the door.
Advance tickets may be purchased from Ticketlab, or direct from the Museum by calling 020 7840 2200 in office hours.