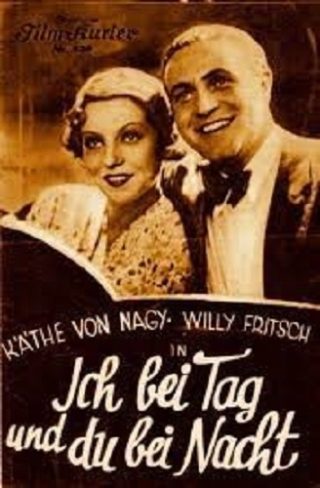 A chance to see a selection of rarely screened fine European films. Me by Day and You by Night/Ich bei tag und du bei nacht, (Germany / 1932 /98 mins). Directed by Ludwig Berger and starring Käthe von Nagy and Willy Fritsch.
Wonderful screwball-style Weimar comedy with the always reliable Willy Fritsch and adorable Kathe von Nagy sharing a room while working opposite hours. They've developed a hatred for each other's habits without ever meeting. The couple's series of mishaps and mistaken identities are delightfully counterpointed by a film playing at the adjacent cinema which pokes fun at the then-current musical romance films.
Never in the early days of sound cinema has a camera been so mobile as it skates and darts from projection room to street, from street to restaurant, from restaurant to the confines of the rented room. Ludwig Berger (best known for co-directing The Thief of Bagdad with Michael Powell in 1940) directed both English and French language versions adjacent to the German original whose consistent inventiveness makes it an absolute gem.
Doors open at 18.30, for a 19.30 start.
Refreshments will be available in our licensed cafe/bar.
TICKETS & PRICING
Tickets £8 in advance or on the door.
Advance tickets may be purchased from Ticketlab, or direct from the Museum by calling 020 7840 2200 in office hours.