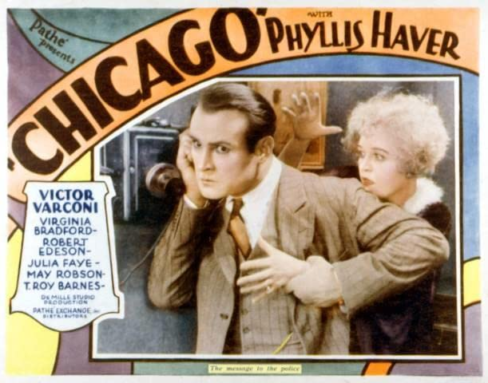 The Kennington Bioscope is a regular cinema event featuring live accompaniment to silent films that takes place at the Cinema Museum.
Chicago (1927) is directed by Frank Urson, with Phyllis Haver, Victor Varconi, Virginia Bradford, and Robert Edeson. A wild jazz-loving and boozing wife Roxie Hart, kills her boyfriend in cold blood after he leaves her.
Seventy-five years before Bob Fosse's Oscar-winning musical version of Maurine Watkins's successful stage play, Cecil B. DeMille's production company made this saucy silent film version. Phyllis Haver is hugely entertaining as the brazen Roxie Hart "Chicago's most beautiful murderess" a woman so pathologically shallow she sees notoriety for a murder rap as an opportunity to secure her fortune. Egged on by her crooked lawyer ("they'll be naming babies after you"), Roxie neglects her long-suffering loyal husband and sets about milking her celebrity status for all she's worth. The sequence in the prison is an absolute delight – particularly the rivalry between Roxie and fellow-murderess Velma (played by DeMille's mistress), as are the climactic courtroom scenes.
Live piano accompaniment for Chicago comes from John Sweeney.
Silent film with intertitles which may be suitable for the deaf and hard of hearing.
Tickets & Pricing
£7. Seats are limited, so please arrive early or request an invitation using the email kenbioscope@gmail.com.
In view of the new variant and the increasing number of infections, we would ask that anyone planning to attend a Kennington Bioscope event who is not double vaxxed does a Lateral Flow Test on the day of the event. We will not be checking this, or people's vaccination status, but will rely on your concern for your fellow audience members' wellbeing. In addition, unless you have a compelling reason to do otherwise, we would request that you wear a face mask while inside The Cinema Museum, apart from when you are eating and drinking. There will be vulnerable people in the building, both audience members and volunteers, and we all need to do what we can to make the event as safe as possible.