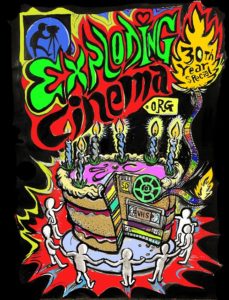 Exploding Cinema celebrates three decades of flicks, light tricks and spilled beer by looking back on 30 years of movies with a programme stuffed with relics from yesteryear, classics of tomorrow and the very best of everything in between.
For something as transient and of-its-time as a group of 1991 Anarchists showing super 8 films on the wall of a squatted sun tan oil factory, Exploding Cinema has inexplicably romped through thirty years and is still running today.
In between, we endured four Conservative prime ministers, two Labour, the birth of the World Wide Web, the rise and fall of numerous other film clubs, Mr. Blobby, 9/11, COVID-19, VHS, DVD, BluRay, Mini DV and High Def.
The formats may have changed, and in the case of Super 8 returned to the screen, the personnel have undergone a couple of near-complete rotations but the ethos has endured: Filmmakers need a place for the public to see their films sheltered from the whims of Curators and Judges.
In its incredible run Exploding Cinema has shown every film that it has been sent, from seasoned filmmakers or those who have never been exhibited before. Some have founded entire careers from their screening at Exploding, others have slunk back into their holes never to make another, but the result is the same: Exploding Cinema is a show like no other. No one knows what will come to the top of the submission pile; we may be surprised ourselves.
Naturally all the bells and whistles will be pulled out too: Live music, the infamous Raffle, food, drink, the Cinema Museum's incredible permanent collection of Movie history and our trademark twenty projectors of all ages coating the walls with moving images to saturate the brain.
It may take us another 30 years to come down from this one, and by then Robots will have taken over so we can put our feet up. But for now this show is the one to come to if you want to find out why we've been alive longer than most of our Audience.
Doors open at 17.00 for a 18.00 start.
Refreshments will be available in our licensed cafe/bar.
TICKETS & PRICING
Tickets £7 on the door.
Advance tickets may be purchased from Ticketlab, or direct from the Museum by calling 020 7840 2200 in office hours.