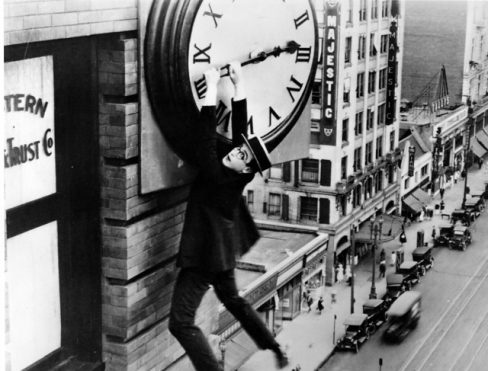 Kennington Bioscope, in association with Kevin Brownlow, presents a weekend of silent comedy films, all with live musical accompaniment.
THIS EVENT HAS BEEN RESCHEDULED FROM APRIL. The programme for the weekend runs as follows:
SATURDAY
10 am THE PATSY (1928) Marion Davies stars with Marie Dressler in one of the first screwball comedies. Directed by King Vidor at MGM. Marion is the family Cinderella, trying to get her sister's boyfriend to notice her, and doing some great film star impersonations along the way.
11.45 LAUREL, HARDY – AND JEAN HARLOW Three of the funniest L&H silents, all of which include an appearance by the soon –to- be- legendary Jean Harlow. BACON GRABBERS (L&H try to reclaim a radio from Edgar Kennedy), LIBERTY (convicts L&H end up on a half –completed skyscraper) and DOUBLE WHOOPEE (L&H as hotel doormen lose Harlow's dress and a foreign dignitary's good will.)
LUNCH BREAK
2 pm SURREAL SENNETT SLAPSTICK Some iconic Mack Sennett comedies from the 1920s , seen for years only in brief clips. Presented and recently restored by Dave Glass.
3.30 pm THE MARRIAGE CIRCLE (1924) Director Ernst Lubitsch. Superb comedy of manners in which Florence Vidor believes husband Monte Blue to be unfaithful, leading to a tangle of incredible consequences for all involved. With Marie Prevost, Adolphe Menjou Esther Ralston and Harry Meyers. Introduced by Michelle Facey.
5.30 pm HAL ROACH RARITIES Never before seen short comedies starring Charley Chase and others. Introduced by special guest Rob Stone, film curator from the Library of Congress; author of 'Laurel or Hardy' and a forthcoming book on Vim Studios comedies.
DINNER BREAK
8 pm SAFETY LAST (1923) Harold Lloyd's most famous feature film, with the iconic "hanging on the clock" climax. Possibly his funniest; certainly the one that established him forever as the king of daredevil comedy. Suggesting a publicity scheme to raise money for the department store where he works, and so make good and marry his girl, he ends up having to substitute for the human fly who it was planned would climb the 12 storey building. With Mildred Davis, Noah Young. Directed by Fred Newmeyer and Sam Taylor. Plus a TV interview with Harold Lloyd.
SUNDAY
10 am SPECIAL DELIVERY (1927) One of only two Eddie Cantor silent comedy features (we showed KID BOOTS at a previous weekend), Secret Service Postman Cantor has to catch crooked oil promoter William Powell to prove his worth and win the lovely Jobyna Ralston. Directed by William Goodrich (aka Roscoe Arbuckle) and (uncredited) Larry Semon. Print from the Cinema Museum collection. Plus the chase climax from Larry Semon's long lost STOP LOOK AND LISTEN! (1926) – first showing anywhere in the world since its discovery in Japan!
11.45 am LUPINO LANE – RESTORED! Some of British star Lupino Lane's top short comedies from the 1920s. Included should be the very rare two reelers FISTICUFFS, FIREPROOF and JOYLAND – a dream of toys come to life featuring Lane's brilliant acrobatic pantomime routine. Presented by Dave Glass and Matthew Ross.

LUNCH BREAK
2 pm ROSCOE REDISCOVERED – Silent comedy buff Steve Massa hosts a presentation on Roscoe 'Fatty' Arbuckle, based on his recent book of the same name. Once as acclaimed as Chaplin, Arbuckle rose to fame at Keystone with Mabel Normand, starred in and directed short films and features, helping Buster Keaton and Bob Hope en route, but is sadly remembered today mainly for the scandal which destroyed his career. Plus HIS WIFE'S MISTAKE – one of Arbuckle's best starring shorts, with Al St.John.
3.45 pm WOULD YOU BELIEVE IT? (1929) British silent star Walter Forde as an inventor who develops a remote control tank, and is pursued by dastardly foreign agents after the plans. A chase in the London Underground is one of the highlights. Forde's best feature, co starring Pauline Johnson. Introduced by the author of the only book on Walter Forde, Geoff Brown.

5.15 pm. THE STRONG MAN (1926) Director Frank Capra. Harry Langdon as a soldier during World War 1 sets out to find the American girl who's been writing to him and somehow ends up in a fired –from- a -cannon strong man act. Years before Chaplin's CITY LIGHTS, Langdon featured a blind heroine (Priscilla Bonner) in his most successful film. Introduced by Matthew Ross – editor of 'The Lost Laugh' ,online vintage comedy magazine.
DINNER BREAK
8 pm SPITE MARRIAGE (1929) Buster Keaton's last silent comedy. Directors Edward Sedgwick, Buster Keaton for MGM.
Mistaken for a millionaire, Buster gets the chance to marry an actress of whom he's a hopeless fan, when actually he's being used to make an old flame jealous. Buster used the classic 'putting the drunken wife to bed' routine on stage and in lesser films for years to come. Introduced by David Macleod of the 'Blinking Buzzards' – the Buster Keaton society (which meets quarterly at the Cinema Museum)
These are silent films with intertitles, which may be suitable for the deaf and hard of hearing. There will be live piano accompaniment all weekend.
Anyone interested in silent film should visit the Bioscope website for more info.
The Museum's café and bar will be open throughout the event serving sandwiches, hot pastries, cakes, snacks, alcoholic beverages and hot & cold drinks.
The Jamyang Cafe, adjacent to the Museum, will be offering a delicious meals during the festival. We encourage you to pre-book when you purchase your festival ticket so we can have your food ready to go, then you can spend less time in a queue and more time sitting down enjoying your meal and break. A pre-booked dinner is £6.50. You will be given a special voucher on the door when you check in for the festival, which you can present at the Jamyang Cafe next door.
Tickets & Pricing
Weekend Ticket £30 / One Day £18 / Afternoon and evening pass £12 / Evening pass £6. Available soon.