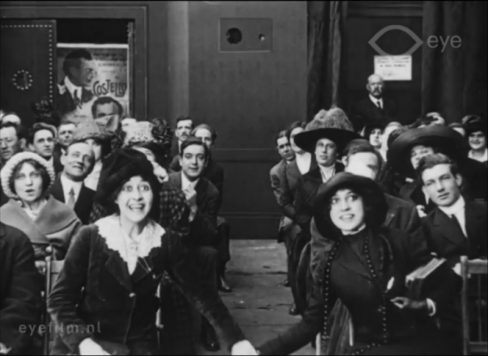 Join us on July 8th at 19:30 BST (UTC+1, 20:30 CEST) for the next Kennington Bioscope KBTV livestream, with silent shorts on the subject of filmmaking and filmgoing from the EYE Filmmuseum, including items from their Jean Desmet collection, plus our first Pathescope 9.5mm showing online, a print of Four Square Steve (1926), with an early role for Fay Wray, from the collection of Christopher Bird. Show hosted by Michelle Facey, with piano performances from Cyrus Gabrysch, Colin Sell and John Sweeney. This programme is FREE to view.
The four shorts from the Jean Desmet collection, courtesy of the Eye Filmmuseum, Amsterdam, are:
Une promenade dans Los Angeles (1912), a scenic look around LA.
Arthème Opérateur (1913), a French short featuring projection booth shenanigans.
Photoplay Magazine Screen Supplement (1919), the first episode of a series of reportages about movie stars and film studios. We'll meet Douglas Fairbanks, Mary Miles Minter, John Emerson and Anita Loos, among others.
The Picture Idol (1912). Clara Kimball Young and Maurice Costello star in this Vitagraph light comedy about a girl in love with a movie star, who follows him everywhere…

Four Square Steve (1926) – One of the Universal Mustang westerns, a weekly supporting short, directed by Ernst Laemmle, starring Edmund Cobb and an uncredited Fay Wray, as identified by Christopher Bird, the owner and restorer of this 9.5mm print transfer.
While waiting for the big day, catch up on the other videos on the channel at https://www.youtube.com/kenningtonbioscope.
Thanks as always to the Kennington Bioscope committee and friends, for their support and promotion of the show.
Subscribe (free) to the YouTube channel and turn notifications on, or join our mailing list to be notified about future shows.
While our home venue, the Cinema Museum in London, is closed, like other cinema and event venues, to keep people safe during the Covid-19 outbreak, we've relocated online. Help support our activities through our Ko-Fi account, if you can.