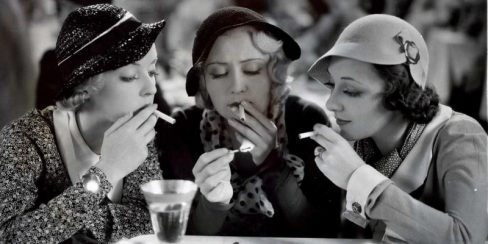 This month, W&C is back with not just one female star, but THREE!
Women & Cocaine Presents is a new film night at the Cinema Museum to celebrate the fierce and liberated women of Pre-Code cinema. From the period of 1930 to 1934, before the introduction of censorship (known as the Hays Code), women were depicted in roles with a frankness and sex-positivity that remains rare even today. These newly independent women pushed gender boundaries as they pursued their own economic freedom and excitement, defying the previous Victorian ideals of domesticity, sexual purity and religion. Hollywood soon caught on and began to represent these women on screen.
This month we celebrate the Pre-Code Queens Bette Davis, Joan Blondell & Ann Dvorak in the nail biting crime drama Three on a Match from 1932.
This raw, quintessential pre code drama has it all! Drugs, Adultery, powerful women, divorce, kidnapping, attempted child murder and a young Humphrey Bogart.
Mary (Blondell), Ruth (Davis) and Vivian (Dvorak) are three school friends reunited in adulthood after all leading very different lives. The title takes its name from the superstition that if three people light their cigarettes with the same match, the third person will soon die. Vivian is seemingly the most successful of the trio, married a big shot lawyer she soon deserts her husband and son for a mobster and a life of debauchery. Before long, she's hooked on drugs and needs cash, so she and the gangster decide to kidnap her own son for ransom.
The film has been called "a primal scream against the injustices visited upon women".
Screening from a vintage 16mm print.
"My father warned me about men & booze, but he never mentioned a word about women & cocaine" – Tallulah Bankhead.
Follow Women & Cocaine on Instagram and Facebook.
Doors open at 18.30, for a 19.30 start.
Refreshments will be available in our licensed cafe/bar.
TICKETS & PRICING
Reserved tickets £10 available from Eventbrite. Tickets will also be available on the door on the night. Concessions available on the door with valid ID. Phone bookings for this event cannot be made via the Cinema Museum.