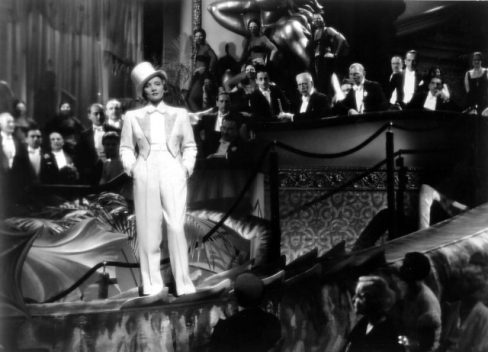 The third edition of Women & Cocaine Presents shines its spotlight on Hollywood's Queen of Cool, Marlene Dietrich.
The pioneer of androgyny, her bold, sexual tease behind the haute couture gender switching was designed to be both titilating and subversive. It has been said, that nothing is quite as exquisite as Dietrich in a suit. Her ageless charisma is often imitated but can never be duplicated. She was a singer, dancer, actress, soldier, mother, bisexual style icon, a rule breaker and anti fascist. A revolutionary who ate men for breakfast, and women for dessert.
To be openly bisexual in Dietrich's time took guts, which she had in abundance. She embraced the sexual liberation enthusiastically and never abandoned it through her long life. And on this night we will embrace her, and watch as she sings dances and sizzles in this cult classic story of a woman who goes back to the cabaret lifestyle in order to support her sick husband's hospital treatment.
Dietrich is Helen Faraday, a nightclub singer turned housewife, but when her husband gets sick and needs money for a life changing operation in Europe, she resumes her singing career to raise the cash. It is during this time she meets and becomes the mistress of a rich playboy (Cary Grant) who offers to pay the husbands hospital bills. She undergoes a series of events that try to separate her from her husband and child and force her to make a choice between her lucrative singing career lifestyle, or her role as a wife and mother.
Women & Cocaine Presents is a new film night at the Cinema Museum to celebrate the fierce and liberated women of Pre-Code cinema. From the period of 1930 to 1934, before the introduction of censorship (known as the Hays Code), women were depicted in roles with a frankness and sex-positivity that remains rare even today. These newly independent women pushed gender boundaries as they pursued their own economic freedom and excitement, defying the previous Victorian ideals of domesticity, sexual purity and religion. Hollywood soon caught on and began to represent these women on screen.
"My father warned me about men & booze, but he never mentioned a word about women & cocaine" – Tallulah Bankhead.
Doors open at 18.30, for a 19.30 start.
Refreshments will be available in our licensed cafe/bar.
TICKETS & PRICING
Reserved tickets £10.02 available from Eventbrite. Tickets will also be available on the door on the night. Phone bookings for this event cannot be made via the Cinema Museum.