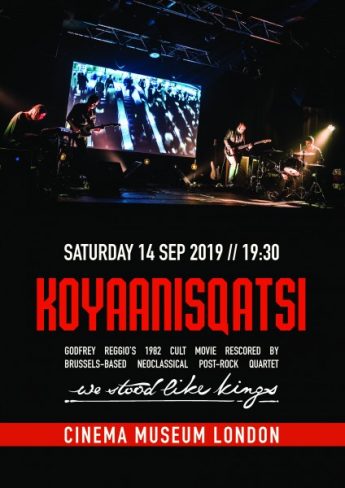 Neoclassical post-rockers We Stood Like Kings saw the light of day in 2011. Three albums and 230 shows all over Europe later, this 4-piece piano-based band hailing from Brussels has become a reference act in live soundtracks to silent cinema. You get the picture: We Stood Like Kings isn't a band like any other. Since 2012 and with the utmost dedication, they breathe new life into well-chosen masterworks of the seventh art.
Three projects have shaped We Stood Like Kings' story so far. Together, these form a vibrant trilogy portraying two empires already lost – Berlin 1927, USSR 1926 – and a third one – USA 1982 – that seems to be running headlong towards its own destruction.
We Stood Like Kings will be playing the third project, which is a new score for the film Koyaanisqatsi (1982), directed by Godfrey Reggio, who said of his film: "Koyaanisqatsi attempts to reveal the beauty of the beast! We usually perceive our world, our way of living, as beautiful because there is nothing else to perceive. If one lives in this world, the globalized world of high technology, all one can see is one layer of commodity piled upon another. In our world the 'original' is the proliferation of the standardized. Copies are copies of copies. There seems to be no ability to see beyond, to see that we have encased ourselves in an artificial environment that has remarkably replaced the original, nature itself. Art is free. It stimulates the viewer to insert their own meaning. So in the sense of art, the meaning of Koyaanisqatsi is whatever you wish to make of it. This is its power."
Doors open at 18.30, for a 19.30 start.
Refreshments will be available in our licensed cafe/bar.
TICKETS & PRICING
Tickets in advance £11 (£9 concessions). On the door £12 (£10 concessions).
Advance tickets may be purchased from Billetto, or direct from the Museum by calling 020 7840 2200 in office hours.