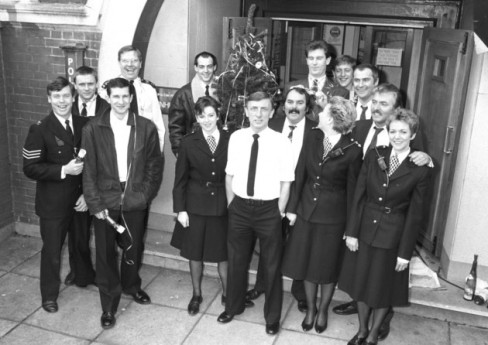 With the huge success of Misty Moon's The Bill Reunions over the last couple of years we are proud to bring the boys and girls of Sun Hill back to Misty Moon and The Cinema Museum.
With Misty Moon's MC Linda Regan, there will be a onstage Q&A and a meet and greet with the audience afterwards. The guests will also take part in a paid signing.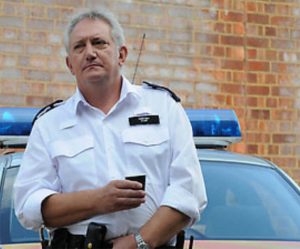 Graham Cole OBE played PC Tony Stamp in The Bill from 1984 to 2009 for 25 years. Graham has appeared in numerous episodes of Doctor Who playing a Marshman, a Cyberman and Melkur during the 1980s. He also made regular appearances on Noel's House Party.
Graham also narrated the police video Police Stop. Recently he has been treading the boards and touring the country in different productions.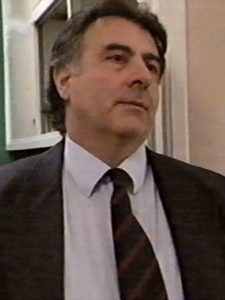 Victor Gallucci played DC Tom Baker, who was a recurring character in The Bill. From the 1990s until the early/mid 2000s Tom Baker served at Sun Hill in CID.
Victor is listed in The Guinness Book of Records as the longest-serving extra in a television show for his role as DC Tom Baker in The Bill (1984). His other credits include Jane and the Lost City (1987), Mirrormask (2005) and Why Not Stay for Breakfast? (1979).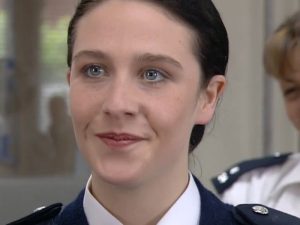 Suzanne Maddock played WPC Cass Rickman – Suzanne appeared in The Bill as PC Cass Rickman from 1999 to 2002. Her character was killed off in the highly rated Sun Hill Serial Killer storyline.
Before The Bill, Suzanne had previously appeared as Janet Frazer in the BBC drama Hetty Wainthropp Investigates, starring opposite Dominic Monaghan and Patricia Routledge. She was in 10 episodes between 1997 and 1998. Suzanne has also guest starred in Casualty, Silent Witness, and appeared in the films Land and Freedom (1995) and Stella Does Tricks (1996).
WPC Cass Rickman had already been in the force for six years before coming to Sun Hill. Transferring to the Met gave Cass her first chance to live away from home and she arrived at the station full of such tremendous energy and enthusiasm that some of the older stalwarts of the squad found it both exhausting and annoying. However, with her quick wit and lively nature, she rapidly made friends. Her greatest fault was her lack of tact – she tended to open her mouth before thinking, and put her foot straight in it. But her redeeming blunt honesty and openness made it hard for anyone to take offence for too long. Cass loved her job and took pride in doing it well. She arrived at Sun Hill determined to make her mark. Tragically, Cass met her untimely end as the final victim of the Sun Hill Serial Killer in late 2002, much to the devastation of all her colleagues and friends, especially her dearest friend, P.C. Nick Klein who sadly missed the opportunity to tell her how about his true feelings for her.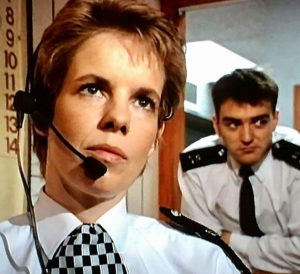 Lynne Miller played WPC Cathy Marshall. Lynn's first TV role was in 1974, but she is best known for the role of Cathy Marshall in The Bill, from 1989 to 1996. Since that time she has appeared mostly on stage. Lynn's theatre work includes Ivy & Joan, Not Waving, Pillion, Funny Peculiar, Tartuffe, Miracle, The Usual Table, The Good Hope, Steaming, The Artful Widow, Scribes, City Sugar and Hitting Town.
WPC Cathy Marshall was one of the brightest women at Sun Hill. At times she seemed also one of the bossiest – but that was just because she was neat, prepared, raring to go and couldn't understand those who weren't. She had passed her sergeant's exams and was often 'acting' sergeant. When there were visiting officers to order about, Cathy had fun. She arrived at Sun Hill to work as the Collator, looking after all the files and records. She thought it was time for a more peaceful life, with only her brain getting tired by the end of the shift. After all, she'd been pounding the pavements for several years and she'd seen her share of excitement. She came with a brand-new commendation for single-handedly arresting an armed robber, and her colleagues knew that she was more than a filing clerk. She soon tired of sorting the files, regular hours or no regular hours. A spell in the Domestic Violence Unit – during which time she helped the abused wife of her own doctor, a man she had consulted when she'd been abused in this way herself – didn't really suit her, either. She asked to return to the beat, and Inspector Monroe reluctantly agreed. He couldn't stop her – Cathy Marshall liked it out there. Tragically, Cathy drowned in mysterious circumstances whilst chasing a suspect.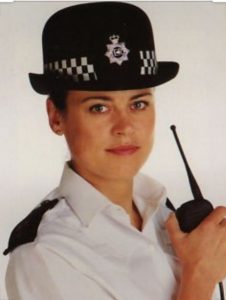 Andrea Mason is a British actress who played W.P.C. Debbie Keane in The Bill from 1995 to 1998. She has guest starred in Clocking Off (2000), Holby City (1999-2003), William and Mary (2003), Emmerdale (2014) and Doctors (2001-17). In 2019, Andrea shared memories of her life and career in a rare interview for The Bill Podcasts.
WPC Debbie Keane joined Sun Hill from Hendon along with classmate Nick Slater but soon emerged as the more promising of the two. She had tried a number of different jobs, including Leisure Centre Assistant and Outward Bound Instructor, but until becoming a police officer, nothing had really satisfied her. Debbie was attractive, fit, vivacious and not a complainer. She met any challenge with vigour and enthusiasm. Not afraid to assert herself physically, she could also hold her own in a scrap. Debbie's cheery manner could be infectious and she was definitely somebody you'd want on your side. Her attitude marked her out as a natural leader, but needing to be tempered by experience. Confident and ambitious, Debbie was encouraged by her senior officers to try for her sergeant's exams – she'd certainly found her niche in the Met. She left the station in 1998 after transferring to Stafford Row to become the new Sergeant.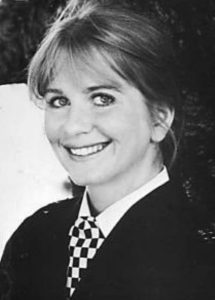 Louise Harrison trained at the Royal Welsh College of Music and Drama. She is best known for her role as WPC Donna Harris in The Bill and Dawn Prescott in Coronation Street (1989). She has also appeared in various other TV dramas and on stage.
Many's the villain who'd volunteer to have his collar felt by pretty blonde WPC Donna Harris, one of the most pleasant, straightforward young women to have worked at Sun Hill. It's their loss that she worked mainly in the station. A Yorkshire lass, she left her family and friends and came to London to join the Met when she was twenty-one. She wanted to do a worthwhile job. She also wanted to make a clean break from sad memories; her husband had been killed in a car crash there. She married again six years later, this time a man many years older who had a daughter from his first marriage. It was the security she wanted, and in the next year she transferred to Sun Hill to become Collator, hoping the regular hours would mean she'd have more time with her family. It did, and the family grew: she gave birth to their son, now a toddler. Because she had a happy home life and knew she was efficient at her job, Donna didn't have to take flak from her male colleagues. Any 'Be a good girl and…' routines earned quick put-downs. In 1994, she became the analyst for the burglary initiative, Bumblebee. She started it up at Sun Hill, and the work entailed her visiting other police stations. Donna left Sun Hill in 1996, her job as collator becoming pretty much redundant in the new computerised era of policing.
More guests to be announced over the coming months.
Doors open at 18.30, for a 19.30 start.
Refreshments will be available in our licensed cafe/bar.
TICKETS & PRICING
Tickets in advance £14 (£13 concessions). On the door £15 (£14 concessions).
Advance tickets may be purchased from Billetto, or direct from the Museum by calling 020 7840 2200 in office hours.