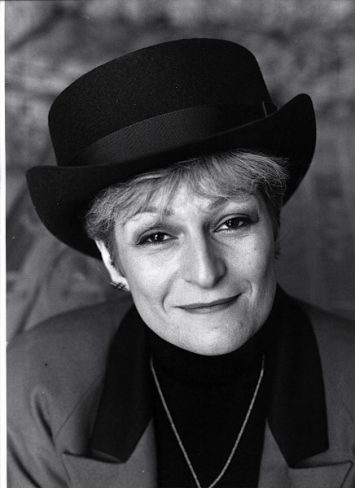 Come and spend an afternoon with Ms Showbiz herself Esta Charkham… Introduced by her friends and fellow actors Diane Keen and Misty Moon's special guest MC Felicity Dean, Esta will take you through her incredible career.
Esta Charkham is a former actress, theatrical agent and casting director and producer. She entered the entertainment industry as a member of Michael Croft's National Youth Theatre, and created one of the leading roles in Peter Terson's prize-winning play Zigger Zagger. She became a professional actress and appeared in the West End as well on screen and on TV most notably in John Schlesinger's Sunday Bloody Sunday (1971) and as Crystal, the Dean's daughter in Doctor at Large for London Weekend TV, a role created by Jonathan Lynn and George Layton. She also worked with the legendary Alan Clarke as an actress and later as a Casting Director on Scum (1979).
She ran the London office of Broadway Impresario Alexander H Cohen and worked on productions including Harvey with James Stewart, Sammy Cahn's Songbook and the Broadway productions of Comedians, directed by Mike Nichols, and Who's Who in Hell by Peter Ustinov and on Helzapoppin with Jerry Lewis and Lynn Redgrave.
She became a Casting Director in 1976 and her many television credits include The Professionals (1980-83), Dick Turpin (1980-82), Princess Daisy (1983) and Winston Churchill: The Wilderness Years (1981). Her film credits include Scum (1979), Quadrophenia (1979), Radio On (1979), Breaking Glass (1980), Supergirl (1984), Fellini's And the Ship Sails On (1983) and the Oscar winning Chariots of Fire (1981). She worked with directors like Alan Parker, Hugh Hudson, John Huston, Franc Roddam and Martin Campbell. Those to whom she gave their first screen roles include Sting, Jason Connery, Neil Morrissey, Kathy Burke, Joanne Whalley Kilmer, Alice Krige, Matt Frewer, Finola Hughes, Lesley Ash, Jonathon Morris, Daniel Peacock, Michael Praed and Conleth Hill.
She also worked as a Casting Director for the theatre – most especially musicals and was the resident casting director for the original production of Evita for Hal Prince and the Stigwood Organisation. She cast Cameron Mackintosh's first West End Musical Oklahoma and the musical of Barmitzvah Boy. She also worked with Anthony Newley, Jule Styne and Don Black, Martin Charnin and Jack Rosenthal.
In 1984, she became a producer for Goldcrest TV, Showtime and HTV with Robin of Sherwood (1984-86), for which she was nominated for a BAFTA Award and an Ace award in the USA. She then produced 26 episodes of the high rated comedy drama show Boon (1987-89) for Central Television, which starred Michael Elphick, Amanda Burton and Neil Morrissey. Many of today's leading performers made early screen appearances in Boon including Clive Owen and an uncredited walk on by Daniel Craig.
In 1988, Laurence Marks and Maurice Gran persuaded her to abandon Boon, (which ran for another five series), and join them in setting up Alomo Productions. She produced the very first series of Birds of a Feather (1989) and the anarchic cult comedy show Nightingales (1990), which was written by Paul Makin for Channel 4. While at Alomo she also initiated the highly successful Love Hurts (1992) and the comedy drama set in Northern Ireland, So You Think You've Got Troubles (1991).
From 1990 – 2001 she produced, executive produced, and consulted on all manner of television programming – sit-coms, lifestyle, drama, entertainment and children's series.
Esta also produced a Christmas Special of David Renwick's acclaimed One Foot in the Grave (1997), which had over 15 million viewers on Christmas Night and won the Viewers Choice Award in 1998's British Comedy Awards.
As an Executive and a Producer in TV, she is very proud of nurturing and commissioning writers such as Anthony Horowitz, Tony McHale, Roy Mitchell, Flanagan and McCulloch, Paul Makin, Nick Collins and Andy Watts at the very beginning of their careers.
Esta has always taken time out from her busy television career to direct in the theatre and to give Master Classes on career development and acting for drama students and newcomers to the profession. She has worked with students at The Guildhall School of Music and Drama, Arts Educational, ALRA, Mountview Central School of Speech and Drama and The National Youth Theatre of Great Britian. As well as directing several successful graduation showcases she has directed full length productions of Babes in Arms, Chicago, How to Succeed, Stage Door, Trelawny of the Wells and Company at various drama schools. Ex drama school students include Rhys Ifans, Sarah Lancashire, Alastair McGowan, Alexander Hanson, and Callum Blue.
In 2001 she retired gracefully from making television programmes and decided to fulfil a life long ambition to teach, direct and nurture new talent. She stepped up her work with the Drama Schools and opened a school for children that taught performing arts in a non-competitive environment and encouraged children of all abilities. Now in it's tenth year, Education in Stage and Theatre Arts (ESTA) is a weekly Saturday school held in Chiswick and Croxley Green and is at capacity, with a waiting list and is Esta's pride and joy!
She directed the revue Nearly at the National in Edinburgh and London and in 2006 directed the musical Feather Boy for Shell Connections at The Lyric Hammersmith. She was also part of the production team for Her Majesty's Garden Party for Children at Buckingham Palace.
Most recently she has appeared on the DVD "Extras" for Robin of Sherwood and I Bought a Vampire Motorcycle (1990), and earlier this year appeared on Paul Mackenna's show for Sky, working with a young actor with Tourettes.
Esta is also a Council Member for The National Youth Theatre of Great Britain and served for ten years on the National Council for Drama Training, Drama School Accreditation Board of which she was a founder member. She was awarded an Honorary Degree by the Guildhall School of Music and Drama in 1983 and was one of the first lady barkers elected to the Variety Club of Gt. Britain.
In 2001 she started a theatre school originally called ESTA (Education in Stage and Theatre Arts) which later became West London Drama Training. Pupils include Jessie Cave, Nell Tiger Free, Jemma Donovan and Billy Kennedy (The Boy in the Dress (2014)).
In 2012 she was persuaded to add adult artists to her rosta of clientele, and current clients include Barbara Durkin, Michele Winstanley, Helen Masters, Sarah Lam, Diane Keen, Jacqueline Chan, Lucinda Curtis, John Blundell, Edward Hibbert, Peter Turner, Dai Bradley, and Peter Purves.
After the gig Esta will meet the audience and take part in a paid signing.
Doors open at 14.00, for a 15.00 start.
Refreshments will be available in our licensed cafe/bar.
TICKETS & PRICING
Tickets in advance £14 (£13 concessions). On the door £15 (£14 concessions).
Advance tickets may be purchased from Billetto, or direct from the Museum by calling 020 7840 2200 in office hours.