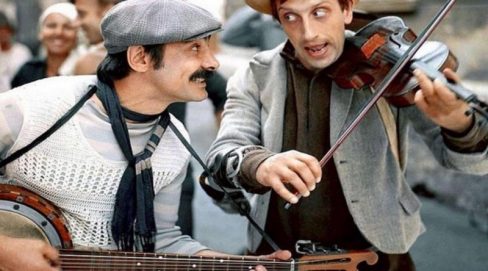 The Guardian's great film critic Peter Bradshaw, will be introducing We are from Jazz (1983), the inaugural film of Kino Klassika's Melodia! Musicals screening program at the Ciné Lumière. Peter has been quoted as being "the film reviewer for intelligent, curious cinema goers", and if that sounds like the kind of cinema goer you are then book a ticket and come on down to watch this delightful Soviet comedy musical!
This is a film about jazz, bizarrely produced in a country where jazz was still banned and vilified. A comedy musical, detailing a young musician's ambition to bring jazz to the Soviet Union. Set in the 1920s, Konstantin's obsession with jazz music causes him to be expelled from the conservatory and leads him to form his own band comprising of street musicians of dubious merit. Their journey takes them across the Soviet Union, beginning in Odessa and featuring scenes in Moscow and Leningrad.
The film is comedic, and makes fun of the rigid structures and values of the 1920s, structures that, whilst dissolving, were still pervasive in the 1980s. More details and tickets here.