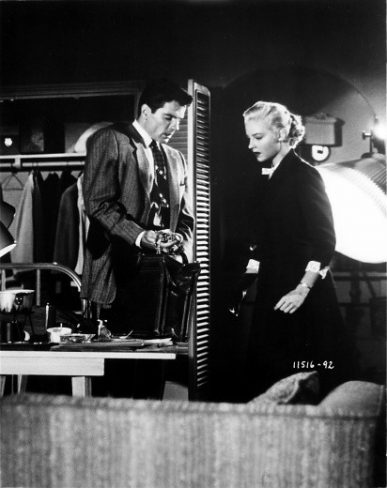 Kennington Noir presents The Scarlet Hour (1956) directed by Michael Curtiz, and starring Carol Ohmart, Tom Tryon, Jody Lawrance, and with Elaine Stritch.
E.V. "Marsh" Marshall (Tom Tryon) is an up-and-coming sales manager for a real estate company, but little does the boss know that his top employee is having an affair with his slinky wife "Paulie" (Carol Ohmart). Parked up in Lover's Lane one night, Marsh and Paulie overhear crooks planning a quarter-million dollar jewel heist, and although they don't hang around, what they have heard plants the seed of an idea…. What could they do with that kind of dough?
There are twists and turns galore in this rarely-seen late noir, made in VistaVision for Paramount. We're delighted to screen this feature from a 35mm archival print.
With supporting programme plus a short introduction from writer Adam Feinstein, who is an expert on the work of director Michael Curtiz.
Doors open at 19.00, for a 19.30 start.
Refreshments will be available in our licensed cafe/bar.
TICKETS & PRICING
Tickets £6.
Advance tickets may be purchased from Billetto, or direct from the Museum by calling 020 7840 2200 in office hours.