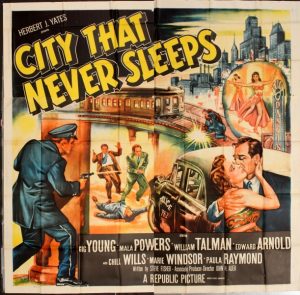 Kennington Noir presents City That Never Sleeps (1953) directed by John H. Auer, and starring Gig Young, Mala Powers, William Talman and Marie Windsor.
Chicago cop Johnny Kelly (Gig Young), who originally joined the force to make his policeman father happy, has grown restless in the job and has decided to quit. He allows himself to be compromised by a shady lawyer, and is about to desert his wife because of his affair with his mistress Angel Face (Mala Powers), a burlesque floozie in a sleazy nightclub. Although the sergeant who partners with Johnny for his last night of duty is a stranger to him, this enigmatic cop seems to know Johnny very well. They leave in a squad car for what will be a very eventful last night on duty in Chicago for the disillusioned young policeman.
On February 3, 2018, director Martin Scorsese, citing the picture's blazing energy and creativity, introduced City That Never Sleeps as the opening film of a thirty-movie retrospective of Republic Pictures titles that he had chosen to be shown at MOMA in New York City.
We will be screening this title on 35mm film, subject to its' condition. Tonight's supporting programme will also be on film.
Doors open at 19.00, for a 19.30 start.
Refreshments will be available in our licensed cafe/bar.
TICKETS & PRICING
Tickets £6.
Advance tickets may be purchased from Billetto, or direct from the Museum by calling 020 7840 2200 in office hours.