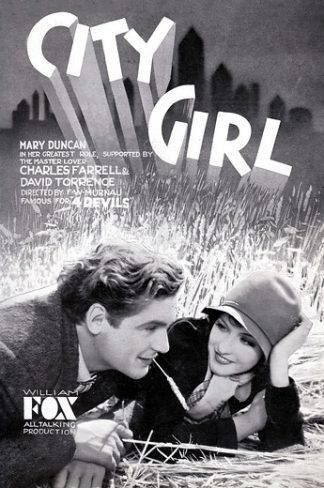 The Kennington Bioscope is a regular cinema event featuring live accompaniment to silent films that takes place at the Cinema Museum.
Three years after his masterpiece, Sunrise (1927) director F.W. Murnau made his last film for the Fox Corporation, City Girl. The film is unjustly neglected and rarely shown.
During a brief trip to Chicago, an innocent farmer's son Lem (Charles Farrell) falls for and weds Kate (Mary Duncan), a hard-bitten but lonely waitress. They fall in love, marry, and return to the farm in Minnesota. Conflict and adversity follows. Will their love survive?
Tenderly romantic and tough-minded in equal measure, City Girl is one of cinema's great pastorals, featuring some of the most delicate performances Murnau ever filmed and influencing directors such as Terrence Malick and Jean Vigo.
Live accompaniment from Meg Morley for City Girl, and Colin Sell for the first half.
Silent film with intertitles which may be suitable for the deaf and hard of hearing.
Anyone interested in silent film should visit the website for more info.
Tickets & Pricing
£5. Seats are limited, so please request an invitation using the email kenbioscope@gmail.com.