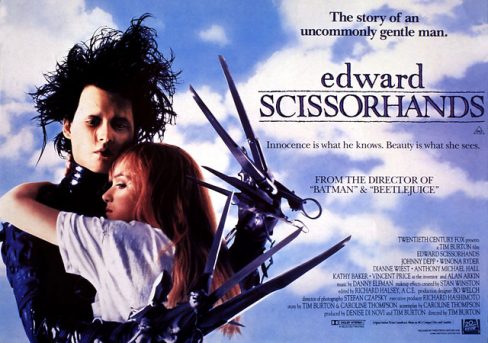 The story of Edward Scissorhands: A modern-day fairy tale directed by Tim Burton.
In a castle high on top of a hill lives an inventor's greatest creation – Edward (Johnny Depp), a near-complete person. The inventor (Vincent Price) died before he could finish Edward's hands; instead, Edward is left with metal scissors for hands. Since then, he has lived alone, until a kind lady called Peg (Dianne Wiest) discovers him and welcomes him into her home. At first, everyone welcomes Edward into the community. Edward becomes friends with Peg's young son Kevin (Robert Oliveri) and her husband Bill (Alan Arkin). He later falls in love with the Boggs' beautiful teenage daughter, Kim (Winona Ryder), despite her initial fear of him. However not everyone in the neighbourhood is impressed, and soon things begin to take a change for the worse.
Screenings start with a talk from Film Studies teacher Gareth Jones, outlining a particular approach to film analysis and end with a group discussion inspired by that approach. Join us for our next event to gain and share new insights in to great films!
Don't just watch movies, learn to read them.
Doors open at 18.30, for a 19.00 start. We will be screening Edward Scissorhands from a 35mm print.
Refreshments will be available in our licensed cafe/bar.
TICKETS & PRICING
Tickets in advance £8.50 (£6.50 concessions). On the door £10 (£7 concessions).
Advance tickets may be purchased from Ticketlab, £8.50 tickets and £6.50 tickets, or direct from the Museum by calling 020 7840 2200 in office hours.