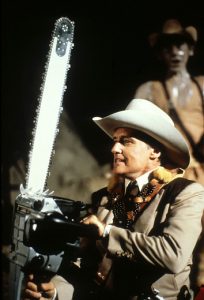 The Texas Chainsaw Massacre 2 (1986) was directed by Tobe Hopper, who co-wrote and directed the original 1974 film, to which this film is the sequel. Produced by the Cannon Group, the film made $8 million against its $4.7 million budget, became popular on home video and now has a cult following.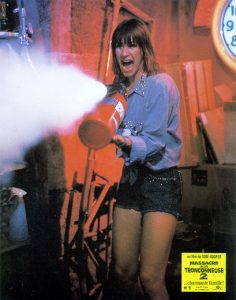 Dennis Hopper plays a former Texas Marshall who hunts down Leatherface (Bill Johnson) and his cannibalistic family after they kidnap and terrorize a radio host played by Caroline Williams.
Caroline Williams makes a personal appearance at 8pm (separate ticket required, details here).
Doors open at 16.30, for a 17.00 start.
Refreshments will be available in our licenced cafe/bar.
TICKETS & PRICING
Tickets £6.
Advance tickets may be purchased from Billetto, or direct from the Museum by calling 020 7840 2200 in office hours.