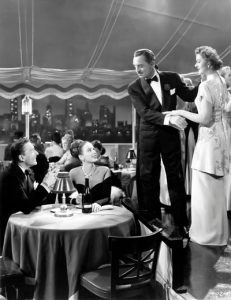 The sixth and last Thin Man film is directed by Edward Buzzell, from a script by Steve Fisher and Nat Perrin. Also starring Phillip Reed, Keenan Wynn and Jayne Meadows, as well as Dean Stockwell as Nick Jr., and Gloria Grahame as a singer (although her voice was dubbed by Carol Arden).
Tommy Drake, the leader of a jazz band in killed aboard a gambling ship where he was performing. The ship's owner, Phil Brant, who is the prime suspect, turns up at Nick and Nora's apartment asking for help. When he is then shot at, Nick turns him in to the police, deciding this is the safest place for Brandt to be while he investigates…
Full supporting programme.
Doors open at 13.30, for a 14.30 start.
Refreshments will be available in our licensed cafe/bar.
TICKETS & PRICING
Tickets £6.
Advance tickets may be purchased from Billetto, or direct from the Museum by calling 020 7840 2200 in office hours.