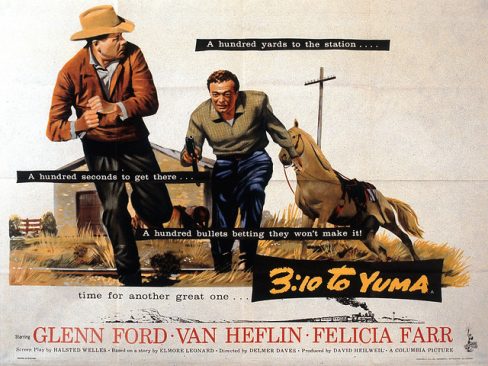 A season of great Hollywood westerns.
3.10 to Yuma (1957) was directed by Delmer Daves and stars Van Heflin and Glenn Ford.
This extremely suspenseful western is considered one of the best of the 1950s. Based on a 1953 short story by Elmore Leonard, this gripping film follows a drought-impoverished rancher who takes on the risky job of taking a notorious outlaw to justice. Farmer Heflin, needing money, agrees to hold the outlaw, Ford, until the train to Yuma arrives.
Full supporting programme.
Doors open at 18.30, for a 19.30 start.
Refreshments will be available in our licensed cafe/bar.
TICKETS & PRICING
Tickets £6.
Advance tickets may be purchased from Billetto, or direct from the Museum by calling 020 7840 2200 in office hours.