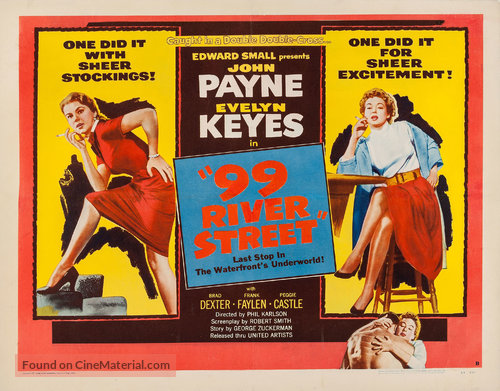 Kennington Noir presents 99 River Street (1953), directed by Phil Karlson and starring John Payne and Evelyn Keyes.
Our Kennington Noir strand continues to bring you the best of the lesser-seen films noirs from the classic Hollywood post-war period. In this instalment, director Phil Karlson (Kansas City Confidential (1952), Scandal Sheet (1952)) delivers a fast-paced movie full of New York's downtown night dwellers, from hoodlums and hustlers to philanderers and insomniacs. John Payne (The Crooked Way (1949)) plays Ernie Driscoll, an ex-boxer who, to coin a phrase, "coulda bin a contender", but who didn't quite make it, and instead has ended up driving cabs for a living. He's unhappily married to floozy Pauline (Peggie Castle), who is secretly dating a trigger-happy jewel thief. The man she's seeing, Vic Rawlins (Brad Dexter), is a career criminal with both the police and his former partners after him, and he sees Ernie as the perfect fall-guy. The cops and Rawlins' criminal associates are soon closing in on Ernie, while he tries desperately — with the help of his gal pal Linda (Evelyn Keyes) — to buy the time he needs to unravel this nightmare.
Digital presentation. Plus supporting programme.
Doors open at 19.00, for a 19.30 start.
Refreshments will be available in our licensed cafe/bar.
TICKETS & PRICING
Tickets £6.
Advance tickets may be purchased from Billetto, or direct from the Museum by calling 020 7840 2200 in office hours.