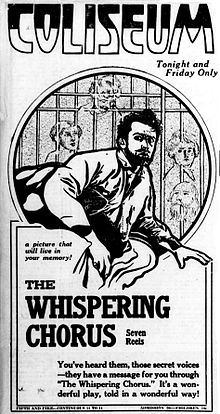 The Kennington Bioscope is a regular cinema event featuring live accompaniment to silent films that takes place at the Cinema Museum.
The main feature is The Whispering Chorus (1918), directed by Cecil B. DeMille.
Hatton (John Tremble), cashier in a contracting concern, succumbs to temptation and steals $1000 from his employer. He runs away and hides, when he begins to fear detection, to an isolated island, where he becomes a bit of human driftwood.
The Whispering Chorus is an intense film that really packs a wallop. The gorgeous, moody lighting, the dark, uncompromising view of humanity and the distinctly unsympathetic protagonist make this a sort of proto-proto-noir.
A programme of silent shorts precedes the main film.
Silent film with intertitles which may be suitable for the deaf and hard of hearing.
Anyone interested in silent film should visit the website for more info.
Tickets & Pricing
£5. Seats are limited, so please request an invitation using the email kenbioscope@gmail.com.