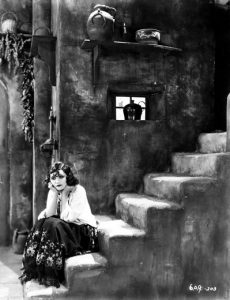 The Kennington Bioscope is a regular cinema event featuring live accompaniment to silent films that takes place at the Cinema Museum.
The main feature is The Spanish Dancer (1923), starring Pola Negri.
Directed for Famous Players-Lasky by Herbert Brenon, The Spanish Dancer was one of those films which, through circumstance, finds itself competing directly with another production telling essentially the same story, in this instance the Mary Pickford vehicle Rosita, directed by Ernst Lubitsch. Contemporary opinion favoured The Spanish Dancer, starring Antonio Moreno and Pola Negri as, respectively, a 17th century nobleman and the seductive dancer, Maritana, who wins his heart. Wallace Beery plays the amorous King whose advances Maritana must repel. The screenplay was adapted by June Mathis and Beulah Mary Dix from the stage play Don César de Bazan by Philippe François Pinel and Adolphe Philippe d'Ennery. Photography was by James Wong Howe. The Spanish Dancer was restored by the Eye Institute in the Netherlands, through whose courtesy this screening has been made possible.
A programme of silent shorts precedes the main film.
Silent film with intertitles which may be suitable for the deaf and hard of hearing.
Anyone interested in silent film should visit the website for more info.
Tickets & Pricing
£5. Seats are limited, so please request an invitation using the email kenbioscope@gmail.com.