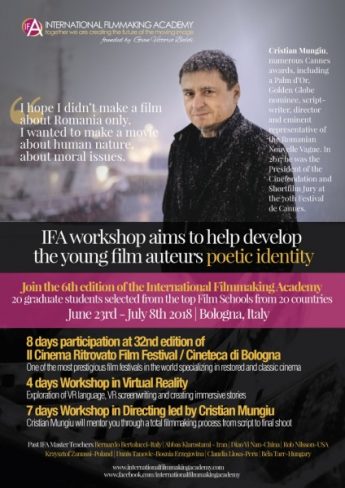 Would you like to interact with top international film directors in a multicultural summer workshop in Bologna, Italy?
We are proud to announce the International Filmmaking Academy's Master Teacher 2018: Cristian Mungiu, numerous Cannes awards including a Palme d'Or, Golden Globe nominee scriptwriter, director and eminent representative of the Romanian Nouvelle Vague. He was a member of the Jury headed by Steven Spielberg at the 66th Festival de Cannes and in 2017 he was the President of the Cinefondation and Short Films Jury at the Festival de Cannes in 2017.
Cristian Mungiu will mentor you through a total filmmaking process from script to final shoot. You will also participate in our Virtual Reality Workshop and at the 32nd Il Cinema Ritrovato Film Festival, one of the most important festival in the world for the classic and restored cinema.
The workshop aims to help develop young auteurs' identity using a mentoring process as a fundamental method, in order to give birth to their individual esthetic.
We are happy to get in contact with you.
Application deadline: April 30th
http://www.internationalfilmmakingacademy.com/admission/
International Filmmaking Academy
http://www.internationalfilmmakingacademy.com/
https://www.facebook.com/InternationalFilmmakingAcademy/
Email: filmmakingacademy@gmail.com
Tel. +39 349 84 80 636