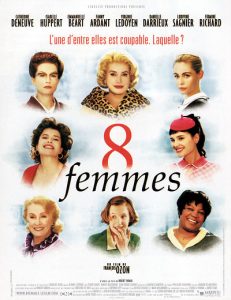 A new season of French cinema – this time looking at four iconic directors.
François Ozon's Cinema – 8 Women (2002).
Ozon is another French filmmaker who loves to tease and provoke. We'll be looking at a wide range of his work and screening 8 Women a film that features eight of France's greatest screen actresses and perfect for those who like songs, pastel colours, great frocks and a plot Agatha Christie would have been proud of.
Each film is accompanied by an introductory illustrated talk by Jon Davies, Tutor in French Cinema at Morley College.
Doors open at 13.30, for a 14.30 start.
Refreshments will be available in our licensed cafe/bar.
French film with English subtitles which may be suitable for the deaf and hard of hearing.
TICKETS & PRICING
Tickets in advance £8.50 (£6.50 concessions). On the door £10 (£7 concessions).
Advance tickets may be purchased from Billetto, or direct from the Museum by calling 020 7840 2200 in office hours.