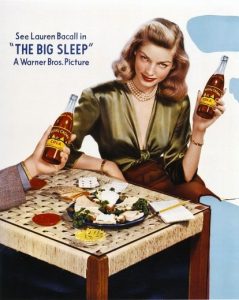 A trawl through the archives to find the quirky and eccentric approach to selling will be undertaken by film historian Alex Gleason.
From Ovaltine to Omo, from Gemoline to the Gas Board – thousands of short films have been produced over the years to promote our favourite products and services.
In the golden age of film-going, when a cinema advertised 'full supporting programme', the chances are there would be 'ads' somewhere between the cartoons, the documentaries and the main feature.
In a bewildering selection of styles – cartoons, comedies, celebrity endorsements, even entire song and dance musicals – these films embracing every new innovation: sound, colour, 3D! – and by golly they kept us entertained. Yet advertising remains the forgotten orphan of British film history. Unexamined by academics, unknown to historians -films junked, lost or neglected – UNTIL NOW!
Come with us on a roller coaster ride through a century of strange and wonderful filmic rediscoveries, like the mickey take of 'Night Mail' – the doctor's advice on 'Night-Starvation' (uh?) – Geraldo's dance band in Technicolor – for toothpaste? and why women can't drive cars (move over Mr.Chumley-Warner – this is the real thing).
In association with the Bioscope a piano accompaniment for the first half of the show with 'talkies' to follow.
It's new! It's Improved! whiter than white! and for one Night only!
This is a special Cinema Museum fund-raising event with the help of the BFI National Archive in conjunction with the Kennington Bioscope.
Tickets & Pricing
Free admission. This is a Cinema Museum fund-raising event, so we will be asking for contributions. Please give generously.