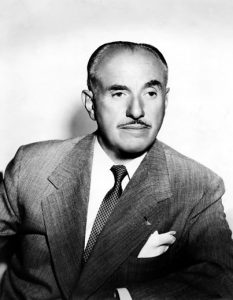 Introduced by event host Rebecca Nicole Williams.
By generous permission of filmmaker Gregory Orr, we are excited to present a rare screening of his feature length 1993 documentary telling the story of the man whose studio created many of Hollywood's timeless classics.
Produced with the full cooperation of Warner Brothers, the film explores the fascinating rise of Jack Warner from obscure poverty to become head of one of the most famous movie studios in history. Made with an insider's access to memories and material previously unseen by the public, the film captures — by way of rare photographs, home movies, film clips, unique location footage and exclusive interviews with family and friends — the life and times of a Hollywood legend.
Featuring interviews with: Efrem Zimbalist Jr, Rudy Behlmer, Shirley Jones, William T. Orr, Debbie Reynolds, Jack Warner Jr and many more.
Doors open at 14:30 for a 15:00 start.
Refreshments will be available in our licensed cafe/bar.
All proceeds from this screening will go to the Save the Cinema Museum Campaign Fund – with gracious thanks to Mr Orr.
EXCLUSIVE LOONEY TUNES SHOW!
Ticket holders for BOTH Jack L. Warner – The Last Mogul AND The Adventures of Robin Hood at 18:15 will be treated to a half hour programme of remastered classic Looney Tunes FREE at 17:15.
TICKETS & PRICING
Tickets £5 (no concessions).
Advance tickets may be purchased from Billetto, or direct from the Museum by calling 020 7840 2200 in office hours.