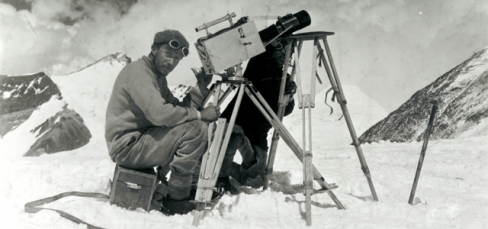 The Royal Geographical Society (with IBG) is screening the 1922 film by John Noel, Climbing Mount Everest on Friday 17 November 2017 at 19.00 in the Ondaatje Theatre at the Society.
Climbing Mount Everest is one of the films in the Society's film collection, which is hosted by the BFI, and has recently been digitised. This screening will show John Noel's 1922 film of the second attempt to summit Mount Everest, including footage of the journey from Darjeeling to Tibet, the first film of Tibetans, and the climb itself.
The screening will be accompanied by Cyrus Gabrysch, a silent film musician.
Following the screening there will be a discussion on the role of film in expeditions past and present. We will consider the logistical and technical requirements of expeditionary film, including the role of Sherpa porters in film-making. There will be an opportunity for audience questions.
For more details and to book tickets, please visit the RGS website – www.rgs.org/everestfilmevening.