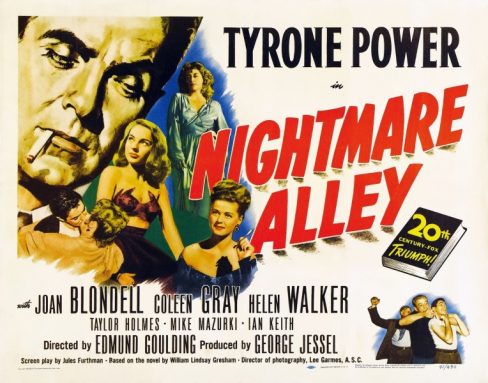 Kennington Noir presents Nightmare Alley (1947), directed by Edmund Goulding and starring Tyrone Power and Joan Blondell.
Lead man Tyrone Power, wishing to expand beyond the romantic and swashbuckler roles that had brought him to fame, bought the rights to the novel of the same name so he could star in this film as the unsavory "Great Stanton", a scheming carnival barker. He is fascinated by carnival life, and works with "Mademoiselle Zeena" (Joan Blondell) and her alcoholic husband, Pete (Ian Keith) who were once a top-billed vaudeville act. Zeena and Pete had used an ingenious code to make it appear that Zeena had extraordinary mental powers, until her attentions to other men had driven Pete to drink and reduced them to working in carnivals. Stanton learns that many people want to buy this code from Zeena for a lot of money but she refuses to sell; she is saving it as a nest egg. And the plot thickens…
To make the film more believable, the producers built a full working carnival on ten acres (40,000 m2) of the 20th Century Fox back lot. They also hired over 100 sideshow attractions and real carnival people to add further authenticity.
With supporting programme and an introduction from Kulraj Phullar from Kings College London.
Doors open at 19.00, for a 19.30 start.
Refreshments will be available in our licensed cafe/bar.
TICKETS & PRICING
Tickets £6.
Advance tickets may be purchased from Billetto, or direct from the Museum by calling 020 7840 2200 in office hours.