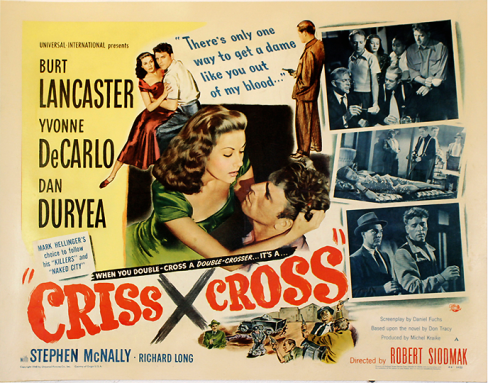 Kennington Noir presents Criss Cross (1949), directed by Robert Siodmak and starring Burt Lancaster, Yvonne De Carlo and Dan Duryea.
Reuniting with director Siodmak after their success with The Killers (1946), Burt Lancaster plays Steve Thompson, a man who seals his dark fate when he returns to Los Angeles to find his ex-wife Anna Dundee (Yvonne DeCarlo) eager to rekindle their love, against all better judgment. She encourages their affair, but then quickly marries mobster Slim Dundee (Dan Duryea). To deflect suspicion of the affair, Thompson leads Dundee into a daylight armored-truck robbery, only to double-cross him when the crime is pulled off.
"Robert Siodmak directs this cynical film noir of obsessive love and betrayal. It's 1940s film noir at its most influential as far as style goes, further enhanced by the beautiful dark photography of Frank Planer, the tight script by Daniel Fuchs, and the taut pacing by Siodmak." (Dennis Schwartz, Ozus Movie Reviews, October 2004).
With supporting programme and an introduction from Kulraj Phullar from Kings College London.
Doors open at 19.00, for a 19.30 start.
Refreshments will be available in our licensed cafe/bar.
TICKETS & PRICING
Tickets £6.
Advance tickets may be purchased from Billetto, or direct from the Museum by calling 020 7840 2200 in office hours.