Don't throw your films away; bring them to Home Movie Day!
"Saving our film heritage should not be limited only to commercially produced films. Home movies do not just capture the important private moments of our family's lives, but they are historical and cultural documents as well. Home Movie Day is a celebration of these films and the people who shot them. I urge anyone with an interest in learning more about how to care for and preserve their own personal memories to join in the festivities being offered in their community…"— Martin Scorsese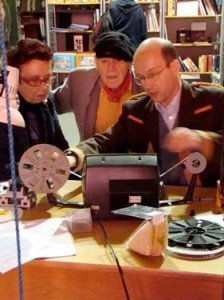 Home Movie Day is a worldwide celebration of amateur films and filmmaking, held annually, and is free and open to the public. For the tenth London Home Movie Day, film archivists will take time out of the vaults to help the public enjoy and save their home movies. Home Movie Day shows how home movies on 8mm, Super8, 9.5mm and 16mm offer a unique view of past life in London and of family history.
There will be a free Film Clinic, staffed by volunteer film archivists, to which members of the public can bring their films for examination. Film London will be showcasing home movies from the London's Screen Archives, archivists will be on hand throughout the day to offer advice about your home movies and projectionists will be screening home movies throughout the day. As people may have inherited films without the equipment to watch them, this is the most special and enjoyable part of the day. Unfortunately, due to unforeseen circumstances, the London Community Video Archives are no longer able to join us to assess video material. We will still be showing a selection of highlights from the LCVA collections, and LSA staff can advise on how to access your video collections.
Home Movie Day is held at the Cinema Museum in Kennington, itself a shrine to the glory days of cinema. The Cinema Museum is currently at risk and this is a great opportunity to visit this vital community asset.
It's a free event, family-friendly and anybody is welcome. You don't need to bring a film to attend and enjoy the day!
Special Screenings
13.30-14.30
We are thrilled to present a recently discovered home movie featuring The Beatles behind the scenes as they filmed Help! (1965) along with some lovely footage of the McKern family.
Special thanks to Neil Pearson Rare Books Ltd for granting permission for this screening.
London's Screen Archives Collection
A special screening of films that capture London's history as seen through the eyes of the families and communities who have helped shape it.
We will be screening a programme of material from the London Community Video Archive, who are preserving, archiving and sharing community videos made in the 1970s/80s in London, alongside a selection of home movies collected as part of the Heritage Lottery-funded London: A Bigger Picture project.
Don't deprive your descendants by letting your films decay in the loft; bring them to Home Movie Day!
11.00 to 16.00. Entry free. Tea and cake will be available.