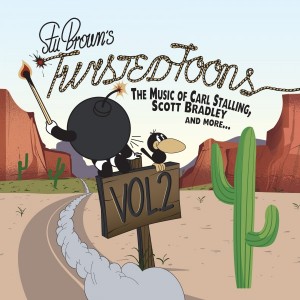 Glasgow-based drummer and composer, Stu Brown, released his critically acclaimed debut album The Stu Brown Sextet, Twisted Toons – The Music of Raymond Scott in 2009, a tribute to the maverick bandleader, composer, inventor and electronic music pioneer.
Twisted Toons Vol. 2 delves deeper into the world of the cartoon soundtracks, including the pioneering work of Carl Stalling, whose brilliantly detailed scores accompanied the antics of Bugs Bunny, Daffy Duck and co., as well as the equally groundbreaking music of Scott Bradley, which underscored the slapstick violence of Tom and Jerry and the Tex Avery cartoons. Most of this music has never been recorded or performed live since the original cartoons were made.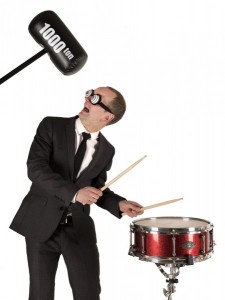 Highlights include four complete scores from Tom and Jerry, Droopy, Roadrunner and Porky Pig, several new arrangements of Carl Stalling's commonly used themes (including Raymond Scott's Powerhouse and his own Screwball Theme), a selection of kitsch 1950s library music cues that appeared in Ren and Stimpy and Spongebob Squarepants and some of Bill Frisell's atmospheric writing for Gary Larson's Tales From the Far Side.
The result is by no means a complete anthology of cartoon music but rather a small glimpse into the wacky world of sonic slapstick and audio absurdity.
Find out more on Stu Brown's website.
Stu Brown's Twisted Toons Quartet consists of:
Stu Brown: drums, percussion, sound effects
Brian Molley: sax, flute, clarinet
Paul Harrison: piano, keyboards
Mario Caribé: double bass
Doors open at 14.30, for a 15.00 start.
Refreshments will be available in our licensed cafe/bar.
TICKETS & PRICING
Tickets £5.
Advance tickets may be purchased from Billetto, or direct from the Museum by calling 020 7840 2200 in office hours. Tickets also available from Frugl.