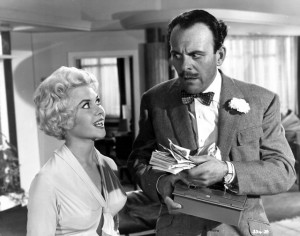 Too Many Crooks (1959) is a British comedy about a bunch of inept criminals who kidnap the wrong woman. Vera Day stars as the daughter of a wealthy businessman (played by Terry-Thomas) and the target of the gang's plot. George Cole stars as the leader of the gang, Sid James is another gang member and Brenda De Banzie is the unintended victim. Directed by Mario Zampi.
Vera Day will be making a personal appearance at 20.00. Tickets for this must be purchased separately – details here.
Doors open at 16.30, for a 17.00 start.
Refreshments will be available in our licensed cafe/bar.
TICKETS & PRICING
Advance tickets £5. Advance tickets may be purchased from Billetto, or direct from the Museum by calling 020 7840 2200 in office hours.