Dubbed 'the original blonde bombshell', Vera Day began her show business career at age 19 when she auditioned for Wish You Were Here, an American-financed stage musical. It was during the show's run she was discovered by Val Guest, who cast her in an uncredited role in his 1954 drama, Dance, Little Lady. From there she made appearances in John Guillermin's Shop Spoiled (1954) and Carol Reed's A Kid for Two Farthings (1955).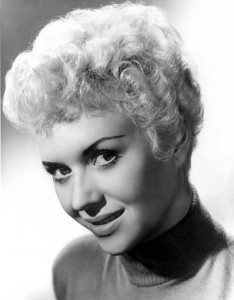 But it was the second half of the 1950s that would prove to be Vera's most active period as a screen actress. 1957 saw the release of her most widely-known movies, The Prince and the Showgirl, directed by Laurence Olivier, and she became one of Hammer's 'scream queens' with a role in Quatermass II (AKA Enemy from Space), where she would once again be directed by Guest. In 1958 Vera also starred in notable genre films like The Haunted Strangler, Up the Creek and The Woman Eater.
In the early 1960s, after a few appearances in movies in British TV, her career in films took a backseat to domestic life when she married photographer Terry O'Neill and had two children.
After a 34-year absence, Vera made a welcome return in Guy Ritchie's Lock, Stock and Two Smoking Barrels (1998). Her most recent feature was 2007's The Riddle, joining an eccentric cast comprised of her Smoking Barrels co-star Vinnie Jones, Derek Jacobi, Julie Cox, Vanessa Redgrave, Jason Fleming and Mel Smith.
Vera will be taking part in a Q&A with Misty Moon's MC Chris Collins, who is a personal friend. There will also be an opportunity for the audience to ask Vera their questions and a paid signing.
Doors open at 19.00, for a 20.00 start.
Refreshments will be available in our licensed cafe/bar.
TICKETS & PRICING
Tickets in advance £14 (£13 concessions). On the door £15 (£14 concessions).
Advance tickets may be purchased from Billetto, or direct from the Museum by calling 020 7840 2200 in office hours.