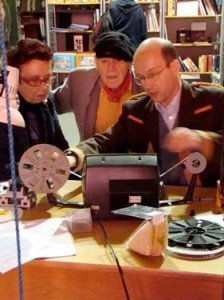 For the eighth London Home Movie Day, film archivists will take time out of the vaults to help the public enjoy and save their home movies. Home Movie Day shows how home movies on 8mm, Super8, 9.5mm and 16mm offer a unique view of past life in London and of family history. There will be a free Film Clinic, staffed by volunteer film archivists, to which members of the public may bring their films for examination. The archivists will give feedback about the condition of the films, and advice on how to store them properly in the home. Information will also be available on donating films to archives and how to transfer films to digital formats for easy home viewing, whilst stressing the importance of preserving the originals.
For the first time, Film London's KinoVan will be visiting Home Movie Day and screening a special programme of London home movies.
Home Movie Day is a worldwide celebration of amateur films and filmmaking, held annually in October and is free and open to the public. Film archivist and organiser Lucy Smee says, "If you have home movies on film that you are concerned about preserving, bring them to Home Movie Day. Too many people see their home movies as just documenting their family; they don't realise that home movies provide insight into family custom, lifestyle, landscape and history."
Expert projectionists will be continuously screening home movies throughout the day. This can be the most enjoyable part of the day, as often people will have inherited films but no equipment to watch them on. Home Movie Day is held at the Cinema Museum in Kennington, itself a shrine to the glory days of cinema. The event is children-friendly and anybody is welcome. You don't need to bring a film to attend and enjoy the event; everyone has the chance to win fabulous film-related prizes and can attend the free special screenings.
11.00 to 16.00. Entry free. Tea and cake will be available.
12.30 Mary Brian and John Decker's Home Movies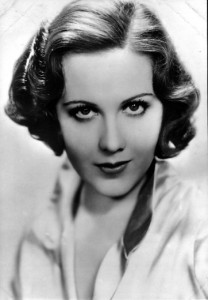 In 1932, Mary Brian, was no longer at Paramount, the studio to which she had been under contract since 1924. On her birthday, various of her friends and colleagues, albeit silently, got together to wish her a Happy Birthday, including Pat O'Brien, Herbert Brenon, Richard Arlen, Ginger Rogers, Lew Ayres, Guinn "Big Boy" Williams, Douglas Fairbanks Jr. and Sr., Esther Ralston, Dick Powell, and even Mickey Mouse. 30 minutes, black-and-white.
John Decker was a painter and forger, noted for his caricatures of Hollywood celebrities, including W.C. Fields as Queen Victoria and Harpo Marx as the Blue Boy. Those paintings and others are featured in his home movies, along with personal appearances by Harpo Marx himself, Thomas Mitchell, Edward G. Robinson, Vincent Price, Errol Flynn, Clark Gable, Ben Hecht, and others. And the footage begins with some great shots of Hollywood in the 1940s. 40 minutes. Colour.