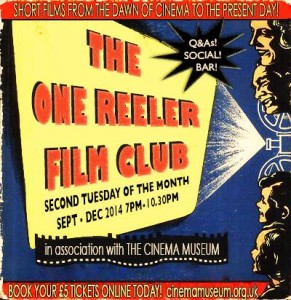 SHORT FILMS FROM THE DAWN OF CINEMA TO THE PRESENT DAY!
The people who brought you 'Feast on Film' and 'Life's Just Networking' would like to welcome you to The One Reeler Film Club, a unique season of short films at the Cinema Museum on the second Tuesday of each month, September-December 2014.
Cinema began life as short 'one reel' presentations over 120 years ago. The One Reeler Film Club presents a rare opportunity to see examples of those pioneering films alongside some of the best short films from the current crop of filmmaking talent.
This series of four events is a must for cineastes and filmmakers alike!
Each event will feature a different example of early 'one reel' cinema presented by guest speakers, as well as Q&As with featured contemporary filmmakers, and presentations by filmmakers seeking collaboration for their upcoming projects.
Come and enjoy our fantastic space with its dedicated bar, where you can share a drink and grab a snack, and where future film collaborations can be forged!
Don't miss your chance to be involved in this limited season of events!
Please join the mailing list at: onereelerfilmclub@gmail.com.
Doors open at 18.00 for a 19.00 start. Licensed café/bar.
TICKETS & PRICING
Tickets £5.
Advance booking recommended as seats are limited.
Advance tickets may be purchased from Billetto, or direct from the Museum by calling 020 7840 2200 in office hours.