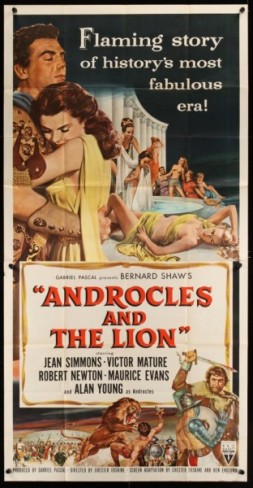 The Shaw Society, in association with the Cinema Museum, is delighted to celebrate the Shaw Society's 72nd birthday with a double bill screening of Androcles and the Lion (1952) starring Jean Simmons, Victor Mature and Robert Newton, followed by Pygmalion (1938), starring Leslie Howard and Wendy Hiller. This completes the screening of the George Bernard Shaw/director Gabriel Pascal quadrilogy begun last December at the Museum with Caesar and Cleopatra (1945) and Major Barbara (1941).
Based on the classic fable, Androcles and the Lion sees Jean Simmons making her American feature film debut. Appearing after the death of Shaw this film has a reputation for being an entertaining but flawed production and ends Pascal's career on a minor note. This event will be a rare opportunity to re-evaluate this film on the big screen.
On the other hand, Pygmalion endures as Shaw's "hit" in genuinely popular culture. The screenplay won Shaw an Oscar, and the film was both a critical and commercial success.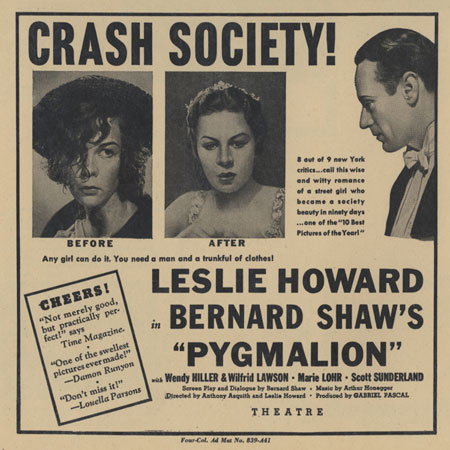 We are intending to present both these films on 35mm prints from the BFI archive. This may be your last opportunity to see these films in this format for many years to come.
With special introductions by Shaw Society Chairman Alan Knight, this event celebrates not only British cinema but also the wit and wisdom of Bernard Shaw. For more information about the Shaw Society, visit www.shawsociety.org.uk.
With access to the museum from 13.00, for a 14.00 start, we look forward to welcoming you to what promises to be a charming and entertaining event.
Refreshments will be available from our licensed cafe/bar.
Tickets & Pricing
Spring Season 2013 ticketing applies. Advance tickets may be purchased from WeGotTickets, or direct from the Museum by calling 020 7840 2200 in office hours.