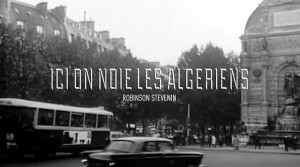 The London Archive Film Festival showcases international archive-based documentary and short productions, some of which never otherwise screened in the UK. Many of the films will be accompanied by a Q&A session with the director.
A must-see event for anybody interested in contemporary creative media that relies on archival footage as a narrative vehicle, the Festival is organised in association with archive footage industry organisation, FOCAL International, whose annual award ceremony celebrates the very best in archive-based productions.
Some of the highlights of the 2013 Festival are:
10 June @19.30. IFTA winner 2013, When Ali Came to Ireland captures the madcap week when legendary boxer Muhammad Ali went to fight in Ireland at the height of his career. Self proclaimed 'World's Strongest Publican' Michael 'Butty' Sugrue pulled off a massive sporting coup in 1972 when he convinced Ali's promoter that he was good for the $300k down-payment required to bring Ali to Ireland and then largely paid for proceedings in beer-stained bank notes. The trip had a huge impact on those Ali met and, some say, on the man himself. The documentary reveals that his trip to Ireland influenced how Ali viewed white people in the aftermath of his conversion to Islam and his declarations that white people were devils. This documentary by Ross Whitaker and Aideen O'Sullivan combines a wealth of archival material with colourful reminiscences to tell an unlikely tale that is infused with great warmth and moments of real hilarity.
11 June @19.30. Receiving its British premiere, Ici, On Noie Les Algeriens (Here We Drown Algerians) is the story of how a peaceful protest in response to a curfew imposed by the police on Algerians living in Paris during the Algerian War of Independence in October 1961 resulted in the massacre of hundreds of marchers. Fifty years later, filmmaker Yasmina Adi sheds light on the events of the day. Blending testimony and unseen archive footage, the film presents the different stages of the day and reveals the brutal strategy and methods applied at the highest level of the French state: manipulation of public opinion, the systematic challenge of every accusation and the censoring of information in order to prevent investigation.
12 June @19.30. Unfinished Spaces tells how in 1961, three young, visionary architects were commissioned by Fidel Castro and Che Guevara to create Cuba's National Art Schools in Havana. Construction of their radical designs began immediately and the school's first classes soon followed. Dancers, musicians and artists from all over the country flocked to the schools but as the dream of the Revolution quickly became a reality, construction was abruptly halted and the architects and their designs were deemed irrelevant in the prevailing political climate. Forty years later the schools are in use but remain unfinished and decaying. Then Castro invited the exiled architects back to finish their unrealized dream…
Finding the Footprints: A Look Back at Mise Eire (Lorg na gCos: Suil Siar ar Mise Eire) – the winner of Focal Award for best use of footage in an arts production. More than fifty years on, the definitive story of Ireland's most famous documentary film, Mise Eire ("I Am Ireland") is told through the eyes of its director, George Morrison, key creative personnel behind the production, and ordinary Irish people who experienced the film upon its theatrical release in 1960. Finding the Footprints carefully and intertextually uses archival footage of Ireland over a range of key periods in its 20th century history, and is a film that deals fundamentally with the inherent power of archive footage, charting as it does, the complicated creation and cultural impact of Mise Eire.
Last year's all-day workshop proved very popular and the speakers confirmed for this year are Shane O'Sullivan, whose archive-based documentaries number Children of the Revolution and RFK Must Die, and Sam Dwyer, one of our most experienced film researchers with a recent biography that includes Marley and Crossfire Hurricane.
Tickets and Pricing
Tickets are now available through WeGotTickets.
Keep an eye on the Focal website for news updates on timings and venues.