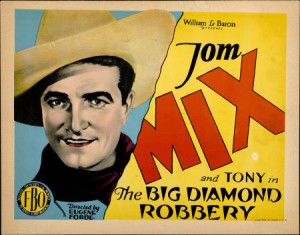 The Vintage Film Circle recreates the experience of one of its classic film shows of the 1960s/70s, with silent rarities including a Pathé Baby abridged version of Tom Mix in The Big Diamond Robbery (1929), a Phlip & Phlop cartoon animated by H. Grey in France in the mid-1920s, extracts from a six-part weekly series Stage Stars Off Stage produced and directed by Tom Aitken (GB 1925), a Nicolas Rimsky comedy from France, and more! Lilly Henley will supply the piano accompaniment.

The VFC lives on through its journal Flickers, but in the 1960s and '70s the Circle held regular monthly screenings of rarities, often on 9.5mm, in central London. The regular shows ceased over 25 years ago, but for one evening we aim to bring it back to life.  No exploding projectors (we hope), topless barmaids or stroppy print workers, but great fun for both members with fond memories of these gatherings and also for those lucky people for whom this will be a new treat. Doors open at 18.30 for a 19.30 start, and the event is expected to end at 22.30. Refreshments will be available.
Tickets & Pricing
Autumn Season 2012 ticketing applies. Advance tickets may be purchased from WeGotTickets.