For its pure entertainment value, little came close to Diva in the French Cinema of the 1980s. Director Jean-Jacques Beineix caused shock waves with his blending of old French film traditions with the cool of the MTV generation in this intricate and stylish thriller.
The younger generation of French filmmakers in the 1980s borrowed greatly from advertising, music videos and the glossy production values of Hollywood, with a slick style that became known as Le Cinéma du Look. Their films were aimed at a younger generation whose interests lay closer to American than French culture, though they were to find a wider audience, attracting great favour internationally.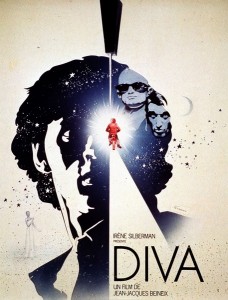 Beineix was responsible for two of the best examples of this genre, 37°2 Le Matin, known to us as Betty Blue, and our featured film this afternoon, Diva. Jon Davies will provide a knowledgeable and engrossing overview of this period of filmmaking where le look was a vital ingredient.
Plus, take the opportunity to see some of the Museum's remarkable collection, and to enjoy our excellent light refreshments!
This is one of our French Sundaes series of screenings with talks.
The event will end around 17.30.
Tickets & Pricing
French Sundaes ticketing applies.