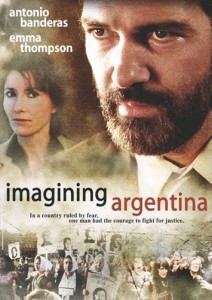 Writer and director Christopher Hampton (Dangerous Liaisons, The Quiet American, Atonement) will introduce his film Imagining Argentina (2003).
The film was adapted from an award-winning novel of the same title by Lawrence Thornton, and was nominated for the Golden Lion award at the 2003 Venice Film Festival, where it provoked controversy. Some members of the press were offended by the use of magical realism combined with harrowing scenes of torture; the film, however, was very well-received during the public screening at the festival with a standing ovation.
Bonnie Abaunza, director of Amnesty International USA's Artists for Amnesty, stated "I wish to voice unwavering support for Imagining Argentina. This film is a powerful depiction of the unspeakable atrocities that the Argentine people endured at the hands of their brutal government during the 'dirty war' of the 1970s. Imagining Argentina is a film that honestly, disturbingly, and poignantly affirms the message that torture must end."
Following the screening, Christopher Hampton will give a Q&A, in discussion with Alistair Owen, author of Hampton on Hampton: Conversations with Christopher Hampton.
This event is expected to end around 22.30.
Tickets & Pricing
Spring Season 2011 ticketing applies.