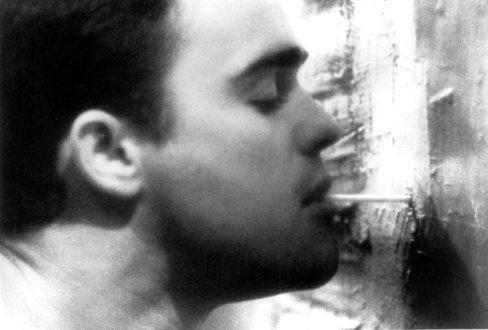 Following the success of its sold-out season on Classic Hollywood 'Camp', THE VITO PROJECT QUEER FILM CLUB presents its new season. DRESSED TO THRILL: A Series of Films Exploring Dress Code and Gender Expression celebrates characters that use dress as a means to subvert gender and societal rules. We will journey through different decades and countries to explore narratives that defy, confront, or expose gender expectations. We invite you to dress to impress, open the celluloid closet with us, and marvel at a line-up of magnificent misfits – be they anarchic, playful, detestable, or absolutely fabulous.
A titillating double bill of homoerotic films about entrapment and repressed queer desire, filled to the brim with fetishized policemen and military cadets.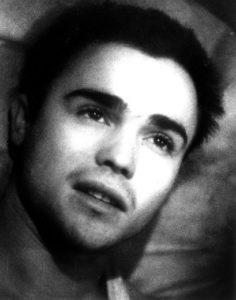 Un Chant D'Amour (1950), directed by Jean Genet. Running time: 26 minutes.
One of the most sensuous and graphic early representations of gay male love and desire on screen, the 26-minute Un Chant D'Amour was French writer Jean Genet's only film and was long banned due to its explicit content. Set in a French prison, this poetic and intensely physical vision of homosexual desire uses the cinematic techniques of collage, flashback and close-up to expose themes that define Genet's written work. It tells the story of two prisoners in isolation who are separated by a wall. Desperately in need of human contact, they devise a most unusual kind of communication – rubbing themselves against the wall and sharing their cigarette smoke through a hole in the wall.
The movie also includes voyeuristic displays of queer desire, including the fetishization of police garb and uniforms. UN CHANT D'AMOUR was described in The Queer Encyclopedia of Film & Television as "one of the earliest and most remarkable attempts to portray homosexual passion on-screen". The film has been cited as an influence for many queer filmmakers, including Derek Jarman, Andy Warhol, and Paul Morrissey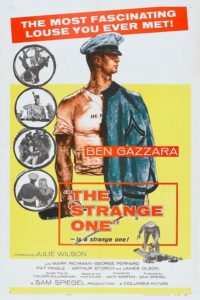 The Strange One (1957), directed by Jack Garfein. Running time: 90 minutes.
The Strange One was one of only two feature films directed by Jack Garfien, an Auschwitz survivor who became a key figure of the famed Actors Studio in New York. Based upon the novel and play End as a Man (the title the film was released under in UK cinemas) by Calder Willingham, it is noteworthy for its portrayal of homoerotic themes and at least one gay character, at a time when the Hays Code censorship board prohibited such expression.
The film tells the story of Jocko De Paris (an equally dangerous and sexy Ben Gazzara in his movie debut), the 'cock of the walk' at military academy, the veritable alpha 'Jock' that even his name implies. Using his sex appeal mixed with sadist ways, he uses his power of manipulation to pull strings and bully younger and vulnerable students into doing his bidding. He also uses his charm to convince others, notably his seniors, that he is an exemplary cadet. When he engineers the expulsion of a hated rival, his reign of terror begins to unravel, and his fellow students begin to turn on him. Besides the magnetic central performance by Gazzara, the film features a solid cast drawn from The Actors Studio, including a hunky George Peppard (Breakfast At Tiffany's) also in his film debut.
Despite changes made to appeal to the Hays Code censors, much of the play's homoeroticism is apparent in the film. This includes fetishization of military uniforms, the Freudian use of swords and other military gear, murky fraternity rituals in the middle of the night, languid shots of boys in the shower, and not to mention references to gag reflexes! The Strange One is a strange one indeed – and one you won't want to miss.
Event format: Doors open one hour before start times for socialising. Screening is preceded by an introduction and followed by a Q&A. Drinks and homemade food by the Electric Elephant Café available.
About The VITO Project Queer Film Club: The popular series has been running at The Cinema Museum since 2015, promoting a safe space to promote dialogue between different generations of LGBTQ+ people, allies, and film lovers. It takes its name after Vito Russo (1945-1990), New York-native a gay rights activist, film historian and author best known for his book The Celluloid Closet, a ground-breaking chronicle of the LGBTQ+ experience in film. Russo famously screened movies in a space for them to be discussed and debated, and the Project continues to honour his tradition at the historic Cinema Museum London.
Doors open at 16.30, for a 17.30 start.
Refreshments will be available in our licensed cafe/bar.
TICKETS & PRICING
Tickets £9 in advance or on the door.
Advance tickets may be purchased from Ticketlab, or direct from the Museum by calling 020 7840 2200 in office hours.