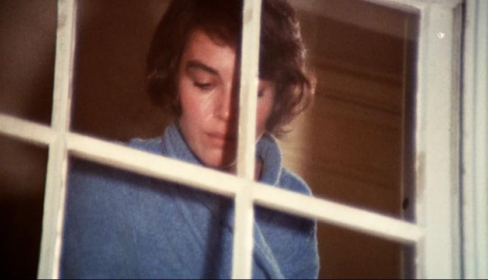 Founded in 1966, the Gothique Film Society specialises in double bills 'for the connoisseur of the macabre'.
Introduced by Kim Newman
We are delighted that acclaimed author, critic and broadcaster Kim Newman, who 'cut his teeth' at the Gothique Film Society, will be joining us to introduce these two early 70s 'indie' productions.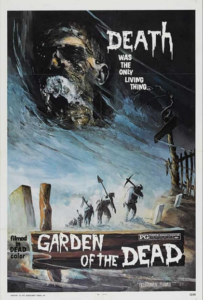 Garden of the Dead, also known by its US video title Tombs of the Undead, is as defiantly 'cheap and cheerful' as they come! A group of prison inmates in a chain gang obtain some experimental formaldehyde, and get high off of it. They later try to escape and are shot dead. They are buried, but then the real problems start!
While the film might not have too many ambitions, and it was undoubtedly heavily influenced by the success of Night of the Living Dead, produced in 1968, it did steal a march on George A. Romero in having its undead being able to understand their surroundings and plot their revenge. So some thought did go into it!
By contrast, Let's Scare Jessica to Death was voted, by Kim, as the Greatest Film of All Time in Sight & Sound's 2012 poll! He will be with us to justify that selection, and no doubt he will be very persuasive!
The film follows the story of young Jessica, who has recently moved to an isolated New England farmhouse but then finds things most definitely going 'bump in the night'. However, despite this also owing a huge debt to the George A. Romero classic, it blends his relentless approach with the quieter chills of the classic ghost story, as shuffling towns-folk (bearing scars that show they've been bled by the local vampire, so there is a twist to this tale) besiege the increasingly fragile Jessica.
Doors open at 18.00 for a 19.00 start.
Refreshments will be available in the licensed cafe/bar.
TICKETS & PRICING
Everyone welcome: Individual tickets at £8.00 can be purchased on the door or via TicketLab.
Alternatively, Gothique Film Society membership subscriptions are available. Each season comprises six shows, from October to March. The subscription for all six shows is £30.00, but discounted membership is available for in-season joiners. For further enquiries about membership, contact David Simpson david.simpson399@btinternet.com or come along and join up on the door.