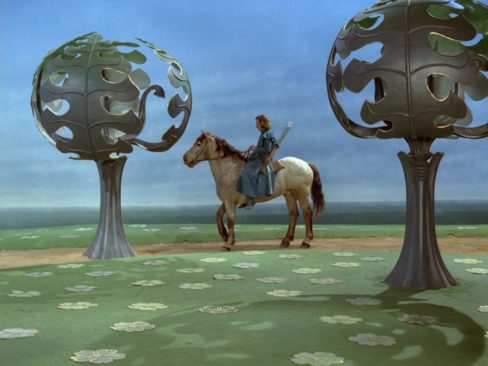 Perceval le Gallois (1978)
Dir. Éric Rohmer | French with English Subtitles | 140 minutes
Introduction by season curator Bruno Savill De Jong
Panel Discussion afterwards with Medievalist scholar Sarah Salih, Immersive Art specialist Ed Cookson and LARP expert Vicky Hawley.
Unique amongst auteur Éric Rohmer's output, Perceval le Gallois (1978) places its Arthurian legend between Medieval illustrations and classic studio-bound Westerns. As naïve Perceval (Fabrice Luchini) seeks to become a knight, he roams around a hermetically-sealed set with painted castles and minimalist trees. Rohmer's adaptation of Chrétien de Troyes's 12th Century poem makes no attempts at 'realism', instead rendering the Medieval world as it saw itself, including third-person narration and a singing chorus. A rare but celebrated treat, Perceval is a fascinating film that finds beauty in its literal and figurative simplicity, with Andréa Picard calling it "Éric Rohmer's masterpiece maudit, undoubtedly one of the most original, daring and meticulous devised films in all of cinema."
Painted Skies is a film season celebrating fake backgrounds, spotlighting films with innovative set design that reminds us of their artificiality. This season was curated by Bruno Savill De Jong as part of the National Film and Television School (NFTS). Find more info at their website for Painted Skies and follow them on Instagram (@paintedsky_films) and Twitter (@paintedskyfilm).
Doors open at 18.00, for a 19.00 start.
Refreshments will be available in our licensed cafe/bar.
TICKETS & PRICING
Tickets £8.
Advance tickets may be purchased from Ticketlab, or direct from the Museum by calling 020 7840 2200 in office hours.