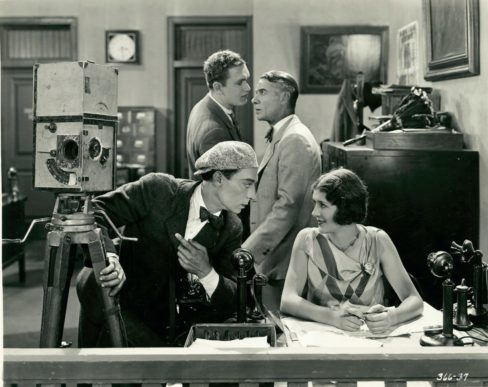 Kennington Bioscope presents a weekend of silent comedy films, all with live musical accompaniment and introductions from film historians and silent comedy experts. A fun-tasmagoria of film, over two days, demonstrating the art of silent film comedy.
There'll be some old favourites, as well as a ton of new discoveries, including some premieres of newly discovered shorts and restored features too.
The whole weekend will be dedicated to our friend and father of this event, David Wyatt and, because of this, we've got some extra special surprises we'll be dropping into the proceedings, throughout the weekend. We're sworn to secrecy – but we promise you won't be disappointed with the special goodies we have in store.
As regular visitors will know, space is strictly limited, so don't delay – book your seat today – for the best lorry load of laughs in London.
The Cinema Museum will open its doors at 09.00.
SATURDAY
Laura La Plante and Edward Everett Horton star in this rarely seen comedy gem, directed by Harry A. Pollard.
In order to secure a lucrative contract, a businessman hires a woman to pose as his wife at a business dinner when his own wife can't make it. Unfortunately, the woman he hires is the wife of an insanely jealous prizefighter. Introduced by Matthew ('Lost Laugh') Ross. Piano accompaniment by Ashley Valentine.
11.45 Kontinental Komics
A kollection of kooky komedians from the kontinent, hand picked from the BFI kollection. Alright, that's enough of the 'K's, oK? Mayhem will ensue as we watch reel rarities from Andre Deed, Ferdinand Guillaume, Leontine, Marcel Perez, Raymond Frau and Zoe (aka Little Chrysia). Presented by ring master Tony Fletcher. (35mm & digital). Piano accompaniment by John Sweeney.
13.00 Lunch
14.00 A Tribute to Mr Wyatt
This weekend, and many other events like it, wouldn't have happened without David Wyatt, who sadly passed away in October 2022. This presentation will be a loving tribute to the man, from his friends and colleagues and will include rare footage and memories of David, as well as clips from his favourite films and some surprises for the audience too, (as well as for the master of ceremonies, Chris Bird!) Piano accompaniment by Colin Sell.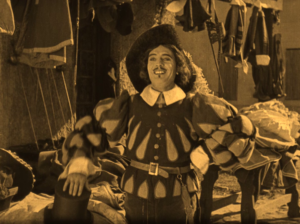 15.40 The Three Must-Get-Theres (1922) – Max Linder
The wonderful Max Linder in one of his rarely seen comedy features, in which he parodies the Fairbanks version of the Alexander Dumas classic. The film co-stars Bull Montana and Jobyna Ralston and was directed by Linder himself. A great chance to see the comedian that Chaplin called "the Master", in action. Introduced by Lisa Stein Haven. Piano accompaniment by Costas Fotopoulos.
17.10 Rare Roach
A collection of rarities from the Hal Roach studios, featuring Our Gang, Laurel & Hardy and the UK premiere of the complete The Way of All Pants (1927) starring Charley Chase and directed by Leo McCarey. This event is hosted by that rascally Roach raconteur, Richard M Roberts. Piano accompaniment by John Sweeney.
19.00 Dinner
20.00 The Cameraman (1928) – Buster Keaton
A chance to see this classic Keaton feature, with live accompaniment and an audience (that's hopefully live too!) Hopelessly in love with a woman working at MGM Studios, a clumsy man attempts to become a motion-picture cameraman to be close to the object of his desire. Piano accompaniment by Colin Sell.
SUNDAY
10.00 The Floor Below (1918) – Mabel Normand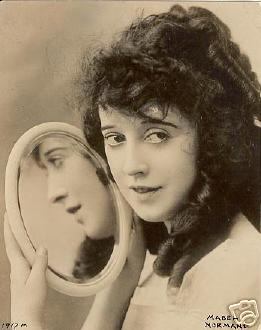 The survival rate of Mabel Normand's features is patchy to say the least. This rarity, directed by Clarence G Badger survives in the Eye Filmmuseum and is a great example of her Goldwyn output at that time. A cub reporter (Normand) is sent undercover to get a story, but falls for the man she is investigating. The film will be preceded by an exceedingly rare pre-Sennett short, that Mabel made for Vitagraph in 1911. Introduction provided by Michelle Facey. Piano accompaniment by Neil Brand.
11.45 Animal Magnetism
It's an old rule among actors to never work with babies or animals as they're natural scene stealers. But because of this quality animals played an important part in silent comedy – continually used for cute, throwaway gags, and even as stars of their own series. Film historian Steve Massa, makes a welcome return to our video stage, with a special presentation all about the animal stars of the silver screen, featuring many rare facts, photos and film clips. This will also include the premier of a new reconstructed restoration of a classic comedy featuring Numa the lion! Piano accompaniment by Colin Sell.
13.00 Lunch
14.00 Only on 8mm
Although we often hear about new 35mm discoveries made by the major archives, there are a great many films that only survive on smaller, more "domestic" formats. The home movie gauge of 8mm, was used as a way of selling movie films to the general public, back in the pre-video days and this presentation will feature some comedies that, as far as we can find out, only survive in this format. Please remember that these films are not going to look their sharpest, but we hope the rarity and the comedy delights within will make them shine in other ways! Curated and presented by Glenn Mitchell and Dave Glass. Piano accompaniment by John Sweeney.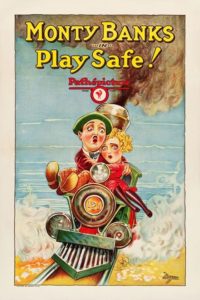 15.30 Play Safe (1927) – Monty Banks
Often remembered for the climatic runaway train sequence, this Monty Banks feature hasn't been seen complete for nearly a hundred years! Using film elements from the Library of Congress, Blackhawk Films and Gosfilmofond, we present the premiere of the reconstructed and restored feature, in all of it's sparkling, heart pounding glory. Piano accompaniment by Cyrus Gabrysch.
17.00 New Discoveries & Restorations
At the time of writing this, we have the problem of having too much stuff to show! This means you'll see the cream of the crop. Films to be shown at the moment include some 28mm rarities, including Lyons & Moran and Larry Semon, an unknown Paul Parrott & Sid Smith delight, a Bobby Burns and Walter Stull discovery, and the new Blackhawk restoration of the Charley Chase comedy Are Brunettes Safe?… and there'll be more if we have time! This will be film that no one has seen for a hundred years!! Piano accompaniment by Cyrus Gabrysch.
19.00 Dinner
20.00 Laurel and Hardy and Friends
Once again, at the time of writing, this is growing into a very special event. For example, we've just had confirmed that we'll be showing a promotional short the boys made, that even the most ardent Laurel & Hardy fan won't have seen before (thanks Serge!), along with a pile of other rarities and discoveries that should make every fan sit up and smile. With the additional showing of one complete restored silent and sound film too, starring our favourite comedy team of all time, this will be the best tribute to the boys (and David Wyatt) we can possibly provide. Hold on to your (bowler) hats! Piano accompaniment by Costas Fotopoulos.
In addition to lunch and dinner breaks there will be short intervals between each programme.
Tickets & Pricing
Weekend Ticket £30 / One Day £18 / Afternoon and evening pass £12 / Evening pass £6. You can also book dinner (£9) on both days at the Cafe Jamyang, next door to the Museum. Tickets and dinner bookable here.