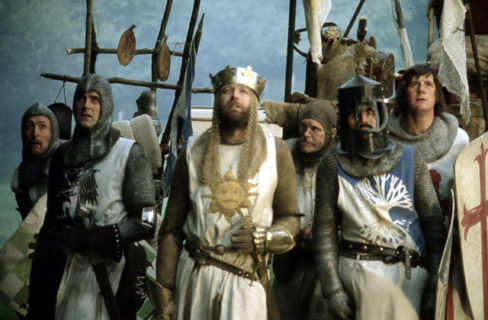 Monty Python and the Holy Grail (1975), written by and starring Graham Chapman, John Cleese, Terry Gilliam, Eric Idle, Terry Jones and Michael Palin, and directed by Gilliam and Jones.
Following the earlier compilation film of their TV sketches, And Now for Something Completely Different (1971), the Pythons worked on an original story based on the Medieval legend of King Arthur and the search for the Holy Grail. No studio would fund their film, so they turned for financing to a collection of rock musicians and record companies. According to Terry Gilliam, the rock musicians, who included The Pink Floyd and Led Zeppelin, saw it as "a good tax write-off".
Graham Chapman plays King Arthur, Terry Gilliam is Patsy, Arthur's servant, John Cleese plays Sir Lancelot the Brave, Eric Idle Sir Robin the-not-quite-so-brave-as-Sir-Lancelot, Terry Jones plays Sir Bedevere the Wise, and Michael Palin is Sir Galahad the Pure, and also narrates the film. The cast also play other memorable characters such as the Black Knight – "It's just a flesh wound" – and the Knights Who Say "Ni".
35mm Film Screening.
Plus a support programme.
We've been asked by the rights holders Python (Monty) Pictures to remind film lovers that this ISN'T a quote-along screening and please don't come in costume. Thank You.
A Cinema Museum 35mm Film Classics Presentation.
Doors open at 18.30, for a 19.30 start.
Refreshments will be available in our licensed cafe/bar.
TICKETS & PRICING
Tickets £8.
Advance tickets may be purchased from Ticketlab, or direct from the Museum by calling 020 7840 2200 in office hours.