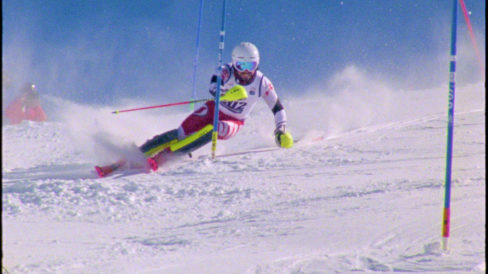 Cinema Mentiré presents Esquí / Ski (2021), an Argentinian documentary about the establishment of skiing in the Patagonian mountains, followed by a Q&A with director Manque La Banca.
Esquí is an experimental hybrid documentary, quite essayistic, in which, with a mixture of archival and original 16mm footage, La Banca traces concepts of European imperialism through the establishment of skiing in the Patagonian mountains of Argentina. In a very free form, through myths, legends, fictional moments and the participation of the local population, the documentary explores the intrinsic elitism of this sport, the exploitation of natural resources and the acknowledgement of the territory.
With the local population as protagonists and playing with fantasy and reality, the film addresses experiences of young people from diverse social backgrounds. Its free, essayistic style, coupled with its multiple narrative layers, rhythmic music and stimulating editing, invites the viewer to embark on a sensory journey. This multifaceted approach not only challenges conventional narrative, but also serves to reflect on social structures, b-sides of tourist cities and how the mistreatment of indigenous communities is perpetuated.
Cinema Mentiré is as an itinerant film club, that aims to bring classic and contemporary Latin American films to UK audiences, with the focus of challenging the stereotypes associated with the region. Find out more on Instragram.
Doors open at 18.30, for a 19.30 start.
Refreshments will be available in our licensed cafe/bar.
TICKETS & PRICING
Tickets £8.
Advance tickets may be purchased from Ticketlab, or direct from the Museum by calling 020 7840 2200 in office hours.