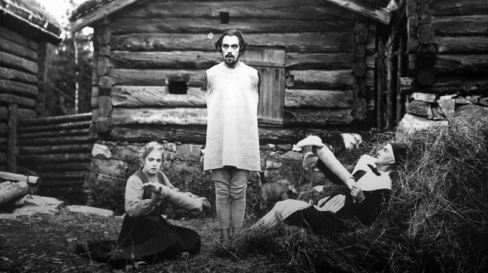 The Kennington Bioscope is a regular cinema event featuring live accompaniment to silent films that takes place at the Cinema Museum.
Prästänkan/The Parson's Widow (1920), directed by Carl Theodor Dreyer and starring Hildur Carlberg, Einar Rød, Greta Almroth, Olav Aukrust, Kurt Welin, Mathilde Nielsen, Emil Helsengreen, and Lorentz Thyholt.
A young man is elected by a small village to be its parson. As part of his duties, he is required to marry the widow of the parson before him. This poses two problems – first, the widow is old enough to be his grandmother, and second, he is already engaged to another woman.
"Once we have seen The Parson's Widow, is it easier to find a comic element in even the most serious Dreyer films, stemming from Dreyer's humanism, his acceptance of man for what he is, with all his weaknesses and strengths" (film historian Eileen Bowser).
Called his first "real film" by historian Tom Milne, Carl Theodor Dreyer's The Parson's Widow announced the arrival of an artist. An uncompromising stickler for authenticity in settings and genuineness in performance, he spent weeks and months in libraries poring over research for his sets and costumes. He searched high and low for suitable landscapes and for types and expressive faces from outside the profession, using older actors for older parts and shunning makeup at a time when it was ubiquitous before all other cameras. Some say he tortured actors until he got just the right emotional tone. He wrote (or rewrote) all his scripts. Dreyer's qualities befit an artist, but they are rarely prized by those in charge of movie studios. His quest for authenticity became his hallmark and propelled him on a perennial search for an artistic home.
John Sweeney will be providing live piano accompaniment for The Parson's Widow and Colin Sell will be playing for the supporting programme.
Silent film with intertitles which may be suitable for the deaf and hard of hearing.
Tickets & Pricing
£7. Seats are limited, so please arrive early or request an invitation using the email kenbioscope@gmail.com.