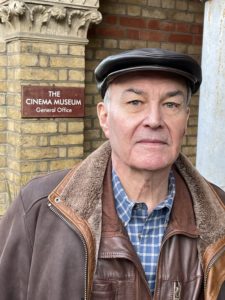 Today December 2nd 2021 the son of Nelson Riddle – famous Hollywood composer, arranger and Big Band leader – Christopher Riddle visited The Cinema Museum along with Geoffrey Littlefield – biographer of Nelson Riddle. He told Ronald and Martin many anecdotes about his father and his upbringing in Hollywood – He loved the museum and a fascinating hour was spent in the Main Hall listening to anecdotes over coffee and biscuits.
Geoffrey had previously brought Perry, the son of Pier Angeli and Vic Damone, to visit the museum. Perry was very moved to see a portrait of his mother on permanent display.
Geoffrey's book is called Nelson Riddle: Music with a Heartbeat.