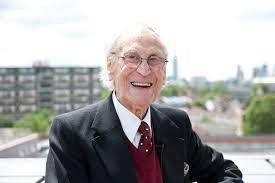 The Trustees, volunteers and all connected with The Cinema Museum are very sad to hear that our good friend and kind benefactor Laurie Marsh has died just weeks short of his 91st birthday.
Laurie and his wife Gillian have shown much interest in the museum's welfare and progress towards our long-term future. Laurie has strong memories of Kennington and Elephant and Castle having a number of connections with this area in his youth as his parents had shops in Lambeth Walk.
In a life focused on property Laurie also produced over 75 films and had many connections with theatres and cinema including the Classic cinema chain, Essoldo cinemas and the Astoria Charing Cross Road.
Laurie was a successful entrepreneur who used his skills and experience to support the arts, our heritage and the environment – his life has had a significant positive influence on so many other people.
In 2016 his fascinating autobiography The Philanthropist's Tale was published and launched at the museum.
Laurie died at home after a period of illness. He will be much missed.